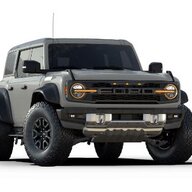 Well-Known Member
I hope you are right.

My dealership has 2 GTs and 5 allocations and no one has been scheduled.

I asked them 2 days ago if they have receive any communications whatsoever from Ford about the Warthog and they said no.
My dealership had 3 allocations and one went the first round, they didn't get a say in it Ford automatically picked it. Back in May they notified me and said that Ford had reached out about which allocation to schedule next, and mine was selected, but we haven't had any scheduling's since then so here I sit. I just emailed again to see what rumors they have. I'll post what I hear.