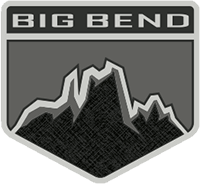 Well-Known Member
Joined

Jan 7, 2021
Messages
Reaction score

756
Location
Vehicle(s)

Vintage Motorcycles, F-150, various other
Bronco

Big Bend
The people getting good mileage from a Jeep, would be doing it in a Bronco too. I'll bet you I'll get 23 out of my 2.3 Manual. Because I don't race around or speed.
The amount of power expected today is unreasonable. When the original broncos (and Jeeps) were out when I was in my 20s, they were very underpowered, but with a 55 MPH national speed limit, it didn't matter. Today the highways are more crowded, but people expect to "merge with traffic at 80 MPH"....the only thing not killing 100K people a year is better vehicle bodies and air bags. There are TONS of wrecks on every highway every day because of this excessive speed and drooling lust for more and more horsepower. Sorry, but the people complaining that a Bronco isn't a 12 second quarter mile vehicle are ridiculous. Slow down, enjoy life more. Driving doesn't have to be a Death Wish, extreme sport. It's about getting to your destination and enjoying the outdoors. Not posing "bad-ass" and blowing away people at every light, cutting off everyone that wrongs you, ripping up behind me at 80 MPH when I'm trying to pass a semi, because, well, you have some competitive need for attention.

I've pulled a 3 horse trailer with my 2002 F-150 and it barely gets up to 75MPH over about 30 seconds. So what? If anything, we need to slow the speed limits down a little, and cops need to start writing more tickets. At least in my state, it's like Road Warrior out there. We have many more fatal accidents due to excessive speed than were conceivable 20 years ago.