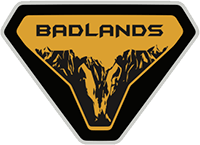 Member
This is a good thread to read through if you want a comparison.

https://www.bronco6g.com/forum/thre...standard-on-black-diamond-and-badlands.22102/

But to answer your question, both the capable bumper and the modular bumper have bash plates. The capable bumper has fog lights, while the modular bumper does not. The module bumper is a lot more... well... modular. You can take bits and pieces off of it to customize it, increase your approach angle, etc.

According to the order guide, which is usually considered the ultimate authority on what options are available... you can get a manual Sasquatch on the following:

2-Door Base
2 & 4-Door Big Bend
2 & 4-Door Black Diamond
2 & 4-Door Badlands

When it comes to ordering vehicles in the past from Ford, the order guide has never been wrong even though the website Build & Price tool and other media materials have been incorrect before. So I'm personally sticking with the order guide until Ford says it's incorrect.
Awesome info. Thanks for taking the time to respond!