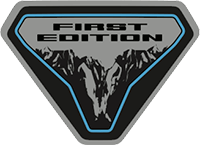 Well-Known Member
that is NOT the MGV interior .. it just a black version of the orange interior. If they didn't have an all black suede options, bronco6g would freak
This interior was shown in the original official release thread.
https://www.bronco6g.com/forum/thre...eal-specs-info-wallpaper-photos-videos.34482/
I 'm not sure if it is Mgv or not, but it looks the same as the blue interior.
As much as I dislike blue interior, especially with an orange exterior, this blue interior is awesome but I think it's because I like the orange accents. The orange peeking through the seat inserts is particularly cool. I would prefer the deluxe interior but replace the blue stuff with the gray and leave everything else as is.