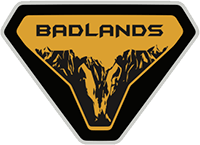 Well-Known Member
So, 500 Days after placing our reservation for a 4-door Badlands, we got the call from our dealer that the Bronco had arrived. We intended to head straight over, but were unable to get there until today. Likely worked out better as it was a much nicer day. We are really pleased with the Velocity Blue in person. Toothman Ford in Grafton, WV was absolutely fantastic. No funny business and our agreed upon price was honored without question.

Interesting part of the story.... As we were on our pre-purchase drive, I had to take a second look at the driver's seat. After everything we've experienced during this process, nothing surprises me. Low and behold, the seat back is not the same material as the rest of our interior. We ordered the Black Marine Grade Vinyl, but the driver's seat back is Navy Pier Leather. Are you kidding me

@Ford Motor Company

!?!? I guess the seat installer/assembler was a bit hung over on assembly day, but equally shocking that this made it through QC!! They aren't even the same color (see pic below)!! The dealership was shocked and said they'd order a replacement, but we should be prepared for a long lead time... What do you say??? What do you do??? It doesn't inspire confidence in the vehicle, and makes me wonder what else might not be correct....
It's a unicorn, like a misprinted coin. Might have extra value some day.