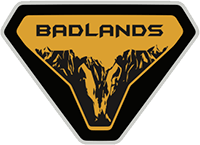 Well-Known Member
Joined

Jul 15, 2020
Messages
Reaction score

1,440
Location
Website
Vehicle(s)

2021 Bronco, 2016 F150, 2022 Highlander
Bronco

Badlands
My Bronco Build
4-door Badlands
Shadow Black
Soft Top
2.7L
Sasquatch Package
Lux Package
Towing Package
My Timeline
Reserved - 7/13/20
Ordered - 2/3/21
Built - 9/21/21
Shipped - 9/23/21
Delivered - 10/7/21
My Order Story
I originally selected a MOD top for my Bronco, but after hearing that the top was going to be delayed to 2023, I had a tough decision to make. I attended the Austin Off-Roadeo and had a chance to drive a Badlands with a soft top. I loved how easy it was to use whenever I felt like it. That, along with the news that Ford would include hard top prep kit made it easy for me to change my order to a soft top. Two weeks later (9/2/21) I got the "Scheduled for Production" email with a build week of 10/4/21. To my surprise, after about another three weeks (9/22/21), I got the email that my Bronco was built and on 9/24/21 I was notified that my Bronco had shipped! I was about two weeks ahead of schedule! My Bronco was finally delivered on 10/7/21 and I picked it up on 10/9/21. I was fortunate enough to purchase from an honest dealership for $1,000 under invoice.
Picked up from the dealer. I don't smile in pics much, so this says a lot about how happy I am
10/9/21 - First pics at her new home
10/9/21 - As soon as I got her home, I started installing the accessories/mods I compiled during the wait.
Rubber hitch plug
Cargo area liner
StickerFab door sill protectors
Get them
here
, along with other cool vinyl products for the Bronco and use my code
HORSEPLAY
for 5% off!
Cravenspeed Stubby antenna
Tailgate folding table
Bestop Bimini mesh top
Safari bar and Rhino USA D-Ring shackles
10/13/21 - Just installed the Baja Designs A-Pillar kit. Went with the Squadron Sport Driving/Combo.
Installed
Headlights only
Headlights + A-Pillar lights
10/14/21 - Got my wheels installed. Went with some Venomrex VR-601BL 17x9 +0 offset in Coal Black (24.6 lbs. each) and stuck with the Sasquatch tires. I'll be selling my Sasquatch wheels if anyone is interested.
10/20/21 - Removed top and doors
10/22/21 -Tint installed. Went with Prestige Spectra PhotoSync; 30% windows, 70% windshield. Also got my newborn pic framed
10/28/21 - Installed a front and rear dash cam last night. Went with the Thinkware F200 Pro.
Hidden behind the rear view mirror. Can hardly see it from the driving position.
Angled view from outside.
View from the front.
Rear camera from inside.
Rear camera from outside.
View from the rear.
Sample shot from the front camera.
Sample shot from the rear camera.
Sample front camera footage on the beach of people stopping and commenting/asking about the Bronco
Sample rear camera footage through the soft top rear window.
11/10/21 - Cool video of my wheels being installed.
11/29/21 - Added GSWF Defender Satin PPF, Ceramic Pro ceramic coating, STEK DYNOflex windshield protection film, painted the grill gloss black, PPF on the door sills.
12/1/21 - Snapped some quick pics of the black oval and bronco as well as some additional pics.
12/4/21 - Installed Redline Tuning Hood QuickLIFT System.
12/6/21 - Installed Bartact grab handles.





12/15/21 - Received and installed Archetype Racing's BAM-BYOD Rail.





12/17/21 - New rail setup. Still waiting on the phone holder/charger.
12/22/21 - Installed Koverz armrest cover.
12/24/21 - Belkin Boost Charge Magnetic Wireless Car Charger to finally complete my rail setup.





1/4/2022 - Valve stem caps I got for Christmas



1/16/22 - Added Sport mode and installed Ronin Factory drain plug.
1/20/22 - Installed Baja Designs Fog Pocket Kit
1/22/22 - Installed ARB Twin Compressor
Last edited: