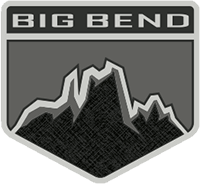 Well-Known Member
First Name

Geo
Joined

Sep 16, 2021
Threads
Messages
Reaction score

151
Location
Vehicle(s)

Honda Civic
Your Bronco Model

Big Bend
Hi All,

Over the holiday weekend I took my family on a road trip from San Diego to Phoenix, total was around 1000 miles consiting of lots of varied condtions (open highway, city, rain, up to 4200ft altitude). We were fully loaded with four people, two dogs, and a family's worth of food, lugage, and Christmas gifts. I'll keep my hot-takes brief so nobody gets bored readng this, but here are a few notible observations (Note - I have a 2.3L/AT 4dr Big Bend, MIC Top, 4.27 rear w/locker, stock except for 285/70R17 Kenda Klever AT2 tires):

1) The near vertical front window is an absolute bug magnet. Plan on lots of cleaning. Bring extra wiper fluid on long trips.

2) Not sure if it's the size/angle of the front window but the windshield wipers seem largley cosmetic in heavy rain. Is RainX still a thing? Does it work?

3) Power to climb/pass/etc. on the highway in the 2.3L/AT is not an issue. Even fully loaded.

4) The wind-noise at highway speed is pretty bad, lots of noise/whistles/etc. from the MIC top for anything over 65 mph. But highway handing is perfect, and road noise was actualy minimal despite running LT all-terrain e-load tires.

5) Here is the big lesson learned though - on the highway wit this set-up, in 10th gear the RPMs sit around 2300 when crusing in the 75-80 mph range. And almost always using at least 2-5 psi boost. It's nice to be in the meat of the powerband, but man it SUCKS for fuel economy. Crusing at 80 on the highway I was lucky to get 18mpg, and often dipped into the 17mpg range. Overal for the trip I averaged about 18mpg. There is a HUGE diference going from 65 to 75-80mph, that jump cost me 2-3mpg.

Since I'll surely spend more time on the highway than off-road with a locked differential, I am wondering if the upgrade to the e-locker was a mistake. However, I also think that 10th gear is a bit short and it was likely optimized for the standard gearing.

All-in-all, it was a great travel partner. Everyone was comfortable and space was adequate.

Oh, and the number of Bronco's seen on the entire trip other than mine? Only one.

Cheers!
Funny. I also drove to Phoenix the same weekend but from Los Angeles. Your experience is very similar to mine and I also have a 2.3l Big Bend but with a soft top.
To this day im still averaging 18mpg and the wind noise is pretty bad in a highway although I expected that. .
The whole trip was smooth but my only concern are the wipers like you mentioned. They are pretty unreliable in heavy rain. Overall my trip was smooth and I can't get enough of the driving the Bronco. Worth the wait and every penny.