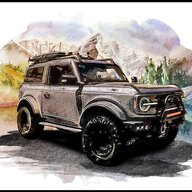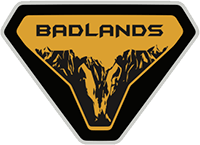 Member
Hey Y'all! I'm sure there are plenty of threads on here about road trip experiences with the Bronco. For the small percentage of us that have a 2 door, or will soon be joining the 2 door club, I wanted to share my experience and thoughts with you on what to expect and try to alleviate any concerns you might have with the 2 door.

So quick info about my build: 2.7L, badlands, SAS, with Lux. Pretty much stock haven't done any crazy mods. Only swapped out them horrendous goodyear tires for BFG's. (More on that later)

#1 cargo space

First thing I want to mention is cargo space. This might be the #1 concern for most people thinking about getting a 2 door, which is why i wanted to talk about it first. Is it enough space? Is it manageable? The answer to both of these questions is, YES! BUT! (Yep there's a "but"..) but it is only enough cargo space for 2 people. Obviously the 2 door is not practical for a family. So if you are a couple, or hittin the road solo! The 2 door has plenty of cargo space.

I hit the road with my GF and with our luggage, recovery gear, tool bag, cooler, and other Misc items, I was able to fit everything with no issues. I have no plans to delete the rear seats, and folding them down provided me with enough space. Yes you gotta learn how to stack it all up to make it all fit nicely but it is doable. I do have the cargo basket from JCR and the ceiling net from Raingler and these additions really helped me with my organization.

Organization is key. Remember that.

So what about the weight? All that gear adds up pretty quickly eh? So with the SAS, bronco has a 1" forward rake. It was designed like this for a reason. After I finished loading up everything, the vehicle leveled out. So for those of you that want to do a 1" leveling kit in the front, just remember when you load down your rig, ass end gonna sag..so if you want it to look cool as a DD, and have no plans to gear up, go ahead and level it guess. If you do gear up, leave it stock.

#2 Fuel economy and range.

I traveled from Houston to Moab. Round trip (roughly 2500 miles, 20hrs) My range on a full tank fluctuated between 200-280 MTE. 10-18 mpg, avg 15mpg. Since the 2 door has a smaller tank, I had to plan my stops accordingly. Pretty much stopping from gas station to gas station in order to make it. I do have a Jerry can, but that was for emergency in case one of these smalls towns didn't have fuel. Perhaps that's me being overly cautious but there's no such thing as overkill in my book.

While we are on this topic, I wanted to bring up the ford performance tune. I do not have it and I'm sure some of you have it or thought about getting it. I believe the tune requires premium fuel only? Well...from what I've seen, once I left a major city, I did not come across premium fuel. So if you plan to take long road trips that take you across small towns or areas where you are pretty much in the middle of nowhere, the tune is probably not a good idea. Only gonna find 87. Correct me if i'm wrong but i dont think 87 is premium fuel? Imo, amount of hp and torque is not justified to get it. Ya some people want it to fix the turbo lag, mostly for 1st to 2nd gear. If you are gonna trailer it, ya seems acceptable to get it.

#3 vehicle issues

So how did she perform? Did I have any issues with the 2.7? Was she buggy? How was it being in driver seat during those long hours? Any body damage from them tires slinging up rocks? Whats that B&O sound system been like? How about that hardtop?

Well I'm happy to report I did not have any issues. She was an absolute champ. No issues with the 2.7. Engine preformed flawlessly. Android auto was awesome, no issues. Once I learned how to go full screen, the experience was even better. I've read some people having issues getting Google maps to show up on the screen. (Check on your updates?) Once I started her up, already on the screen setting up the route for my next stop.

Lane keeping and ACC. I think it comes with high package as well not sure, but is an absolute must for long distance driving. Ya it can get annoying at times in the city but on the open road it is f'in fantastic...pardon my french...

I have the MGV seats. Super comfortable. No complaints and didn't hear any complaints from my passenger either.

Goodyear tires that come with SAS are crap. They pick up every single rock and sling them up on the vehicle. It's not from the lack of coverage from the fender Flares. It's the tires and the tread design. I have BFG KM3's now. Far superior tire in every way imo and they also do not sling up rocks. I haven't had any chips in the paint since i swapped. Not one. I moved to a 0 offset and that hasn't created and problems either. My advise, avoid the SAS package or get rid of the goodyear tires immediately.

Ah yes.. the audio and the sub...bang bang! screech screech! Ratte rattle! I have the B&O system and yes i do have issues with the sub at low frequency bass. It does rattle. So I've been trying to fix it and so far no success. Pretty much gave up...but on this trip something was different. So the back was loaded up with gear, luggage and hard cases pushed up against the trim panels near the folded down seats and the back near the sub. While on the road, I noticed the rattling was gone. So I was like, "hmm..let me turn up that bass and see what happens" still no rattle! Praise the Lord! What a relief! So it appears..well for my bronco..pushing in the trim panels in the back or having a force applied to them stops the rattling. When I got back home and unloaded all the gear, the rattling returned. I was like, "well...that sucks..." but now at least I have something to go by and try to fix it for good.

So some of you might wanna hear about the hardtop due to the horrendous QC issues since it's been out. It's hard to give you a definitive response because sadly each hardtop is not built the same. Either you are fortunate to get a top quality hardtop, or it's is..well...just bloody awful. I'm fortunate that my hardtop has been flawless. Wind noise is barley noticeable. Only had wind noise in west Texas goin 90 with a crosswind. Rest of the time is was great, very quiet. QC been great from delivery. No honeycombing, cracks, panels not matching, no creaks or popping noises inside, no water leaks. I know people love to talk smack about the MIC top and yes they should! If you got issues, send it in and get it fixed. It's unacceptable. I'm not going to say I'm lucky, just blessed and I feel it's best to keep an open mind and stay positive about these hardtops. 2 door production is on hold right now I think and it's probably because of the hardtop. Hopefully they are taking the time to build them right, and if so I would be thinking about that in a positive way if my order was on hold.

Ya i know..that was quite a read. if you made it this far, thanks for your time! I hope I was helpful and gave you some positive insight! I'll probably drop another post with my experience in Moab on the trails in the future if y'all are interested to hear about it.

Stay classy!
Last edited by a moderator: