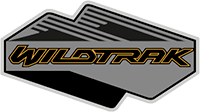 Well-Known Member
This 2-door TT-build was spotted at gas station across the street from MAP. The driver was pumping gas and in a meeting at same time so I didn't want to bother him too much but he did let me look inside. Unfortunately, I didn't get a pic of the interior - he had quite a bit of stuff in there. A few observations and my opinions:
I do not like A51 on the Sport, but I think it works very well on the Bronco and has moved up on my list.
The stance looks good with 32" tires (think they are actually 31.7") I will probably squatch, but if you don't want big tires you may be happy with these, and the Generals look tough. Also, I liked the optional wheels in person. The sweet spot for the BD would probably be 33" tires… Does anyone more knowledgeable than I know if 33" can be slapped on these wheels without any other modifications?
The grille looks much better in person and feels quality to the touch. I've always thought the BD grille looked cheap in photos but it looks really good in person. It's probably my favorite grille design.
The MGV interior is really soft and supple feeling. It's also pretty dark, closer to what's represented on the CGI pics in B&P.