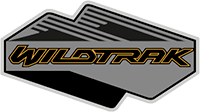 Well-Known Member
Good, now go buy a Renegade or some other cute-ute and leave the Bronco for those of us who want a serious machine and not just another "me-too" grocery-getter, life-style vehicle.
We visit our kids serval times a year that live up in the mountains of Colorado...I happen to have a couple vehicles that do just fine off the beaten path, including side-by-sides for fun in the snow or whenever, Great family fun for the kids and the grandkids!
Even one of my Wife's Subaru's does remarkably well off the beaten path. Please don't preach to me or suggest what I should or should not do with my money. Thank-U!