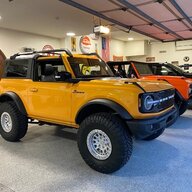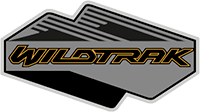 Well-Known Member
Thought i would post the first pics to the start of my build. So far i have installed 37x12.5x17 Nitto Ridge Grapplers on a set of Black Rhino Primm Beadlock wheels with a 0 offset. I also installed the RPG 2.25" Perch Collar lift. It raises the front 2.2" and the rear 1.2"". The crash bars are removed and i have absolutely no rubbing issues at all. I added the Rough Country 3rd brake light extension and tailgate reinforcement brackets. I also added the classic bronco script badges.
Last week i put the order in for the ADD Bomber front Bumper with the Rigid 360 series lights(3-4 month lead time). Since the lead times are so long for coil overs i decided i didn't want to wait so that's why i got the RPG collar lift. Rides great! Will end up replacing that with a coilover kit at a later date. So far i am in love with the Bronco and so happy i did the 2 door. Wanted it to match my 73 a bit more.
Update 3/29/22: Finally got the RSE Electric Steps and Magnaflow exhaust put on.
Last edited: