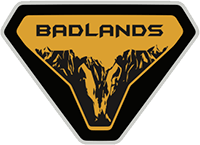 Well-Known Member
Joined

Jun 27, 2021
Threads
Messages
Reaction score

363
Location
Vehicle(s)

Toyota Tacoma TRD Pro
Your Bronco Model

Badlands
It's been two weeks since I've taken delivery of my 2022 4D 2.3 Badlands SAS/HI from Riata Ford in Manor, TX, so I wanted to share some initial impressions across a few categories that have stood out in that time. By no means is this a comprehensive review, and make no mistake - I am head over heels in love with my Bronco, but I've been writing performance evaluations at work all week, so get ready for some constructive feedback, @FordMotorCompany . So far I've just driven the Bronco around my city (mostly highway miles), but I'm looking forward to taking it on a road trip to Big Bend National Park to do some real exploring (Old Ore Road, Black Gap Road)!
Size
When I arrived to pick up the Bronco, my first thought was "is this actually going to fit in the garage?" Compared to my old 3" lifted Wrangler JKU, the Bronco has a much more imposing presence due to the size of the grille, the Sasquatch Package, and the overall brawnier design of the front end. The interior is much more refined than even a Wrangler Rubicon JL in that there is more space, a more sensible seating height, and far more comfortable seats (mine are MGV).
Road handling
As others have noted, buttery smooth on roads. Handles far better than my 2017 Toyota Tacoma TRD Pro in cornering, steering, and overall road manners. You barely notice speed humps at 35mph - I'll let you decide if that's a good thing, but the suspension quality is impressive.
Doors Off
If you plan on taking your doors off, buy the door storage bag system. I debated it for a year because I thought $350 for a set of bags was ridiculous, but I'm glad I kept them part of my order, because they are sturdy AF, and have grab handles all over to allow you to remove the doors by sliding the bag over them while they're still on the Bronco. They're quite a bit thicker than the doors on a Wrangler JKU, and harder to handle as they're frameless (Wrangler doors can be carried by the frame easily). By themselves, the bags weigh quite a bit - several pounds - owing to the thick padding inside and heavy-duty exterior material.
One thing to be careful about coming from a Jeep is that the Bronco's door hinges are located inside the door, whereas a Wrangler has exterior-mounted hinges. This makes re-attaching the doors much more challenging, because you have less space to work with when lining up the pins between the door and the body. Ford includes rubber shims to attach to the door and body to prevent paint scuffs, but they're tiny. I don't use them.
Retaining the mirrors when the doors come off is a giant stress-relief. My partner remarked that for some reason, he was very comfortable with the doors off in the Bronco, but felt unsafe in my old JKU with tube doors. This could be because there are a couple more inches of body material and door sill between the front seats and the outermost edge of the Bronco's body, making you feel a little less like you're hanging over the edge.
Soft Top
I'm torn on this one. The soft top is a thick canvas-like material that feels sturdy and looks great, but to facilitate the convenient fold-down/fold-up procedure, Ford eschewed any kind of tuck-in seal along the sides of the vehicle. Some of you might remember the
infamous case
of an owner leaving his vehicle unattended for several days to find that it had inches of snow and ice that had infiltrated the cab. This is because you can, with some effort, fit your fingers up under the side of the soft top and into the Bronco. At higher speeds, this can cause noise to leak in, and it might be a weak point of the design if the material loosens over time. My biggest gripes about the current soft top design are:
Folded down, you have almost zero rearview visibility. It took a while to adjust to using my sideview mirrors to see what I'd have relied on my rearview to spot, but there are still cases where smaller vehicles behind the Bronco are totally invisible in traffic.
The mechanism that allows the top to be opened and closed so easily is not light. The soft top easily breaks 100lbs, since it is made of thick canvas and has a dense metal frame where it meets the tub of the Bronco. This makes it very difficult to store upright or on its side without damaging the black paint of the mechanism, or bending the components over longer periods when stood up on its side or end.
For now, I love the soft top. Far simpler to operate than a Jeep Wrangler JK or even JL. Once I was caught in a brief rain shower, and was able to park and be on my way with the top up again in <3 minutes (and that was my first time closing the top!)
2.3L I4 + Sasquatch
Dyno test here
. The 2.3 puts out plenty of power, and even with the Sasquatch Package, it accelerates fast off the line and provides plenty of passing power in traffic. Having driven a few 2.7s with SAS, I really don't notice a difference until a few seconds into flooring it, which I never do in normal driving.
MPG​
Yeah...let's talk about this. The Bronco isn't winning any medals here, so I've reluctantly nicknamed it the Ozone Destroyer. I've only just hit 500 mi on the odometer, so the various seals in the engine are still setting as it breaks in. Currently pulling 15.6 with mostly highway driving above 70mph and top down / doors off. I've only driven it a single day with the top up / doors on, so I imagine I'd get closer to the EPA estimated 17/17/17 mpg for this configuration. Not why I bought the Bronco. ECO mode has yet to make any observable difference in MPG.​
Seats
YEAHHH, BUDDY. The marine grade vinyl (MGV) seats are buttery smooth, easy to wipe down, and look fantastic. Compared to the leather interior, I expect these will hold up far better over time with exposure to sunlight. The rear seats fold down easily, as with most other SUVs. I'm not the first to point out that the seats don't actually fold flat - they maintain a maybe 5-7 degree incline when folded down. This really only makes a difference if you're car camping. Even in the heat of the Texan summer, the seats stay cooler than leather, and don't cause as much lower back sweat as I expected.
Storage
One area where the Bronco of course falls short is interior storage. The center console and glove box are small, and you can't easily stash things underneath the front seats as you can in a Wrangler. Since I placed my order in June of 2021, Ford removed the fold-down armrest with cup holders from interiors outfitted with MGV, even though this feature was shown in the Build & Price tool. Not thrilled about that, but I personally don't need it as the driver. There is also a modest storage cubby of uncertain function in the back on the passenger side. It would be nice if this had a little hatch to close it, but I'm sure I'll find a use for it.
SYNC 4 Infotainment
Infotainment System​
Snappy for the most part, but there are some choppy animations on the 8" instrument cluster LCD when changing menus. Maybe this can be addressed in a future OTA update. The 12" screen looks beautiful in direct sunlight, and is highly responsive to input. The SYNC 4 system features a searchable owner's manual with videos and animations, and settings out the wazoo. Wireless Android Auto is a game-changer, but does drain my Pixel 5's battery pretty quickly as the connection relies on 3 of the phone's radios (cellular, Bluetooth, Wi-Fi). Have never had any issues with the connection itself. @FordMotorCompany , I beg you: please enable full-screen Android Auto. The factory navigation system is excellent, but it's never going to compete with Android Auto or Carplay as anything but a "hey, my phone died" or "hey, I'm out of cell range" Plan B. Do not force us to deal with the infuriatingly useless side panel that occupies 1/4 of the 12" display I paid big bucks to enjoy.​
​
FordPass App​
Love being able to check my driving range, fuel tank, oil life, and vehicle location from anywhere. Remote start, zone lighting controls, and lock/unlock through the app are unbearably slow. Sometimes remote start takes 45-50 seconds to work over a cell network, rendering it almost pointless unless you live in one of the frozen, snow-beset northern hellscapes of North America. Overall, the app handles what you'd expect it to, but with performance issues in the remote function areas mentioned.​
​
Speakers​
Honestly, I didn't think this category was going to matter to me as I'm the farthest thing from an audiophile, but I always drive with music on. Total trash. Zero bass, and high distortion at high volume. I have to crank the volume to max on the highway, and there is no bass, treble is terrible, and I can barely hear anything. Compare this with my 2008 Jeep Wrangler Unlimited Sahara with OEM speakers and factory-installed amp, and it's a real crime that Ford skimped out here. The sound system is just OK for driving around town with the Bronco fully open, and decent with the top up and doors on. It just grinds my gears that Ford couldn't outperform the sound system from a 14 year old clunker from the Bronco's main competitor. I'll be replacing the speakers eventually, and am really curious to hear what MY2023 owners think once they start receiving their Broncos with that 7th speaker / subwoofer.​
​
Quality Control
Inexcusably poor. My door hinges were half green on delivery (the Bronco is Cyber Orange), the windshield washer didn't work (all fluid lines checked out OK), one of my quarter panels was almost banana yellow, and the tailgate was misaligned with the body. I paid 62K out the door, and I've never seen issues like this in any of the other vehicles I've bought, used or new, for half the price.
Get your house in order
, Ford. This is an embarrassment.
For those of you yet to take delivery, check out
@Cat
's
OCD Delivery Checklist
. The fact that this checklist was necessary at all speaks to the state of FoMoCo's quality control. Thank you to
@Cat
for putting this together for all of us taking delivery.
Handy Mods
(I am not receiving a commission or any incentive for posting links - simply sharing for anyone who is looking for ideas)
[Update: First Thoughts WRT Wrangler JLU]:
Since many of you might be coming from a Wrangler JLU, I'd like to point out that the steering is
far
tighter and tracks straighter on the Bronco.
Interior Controls
I do prefer the JLU's climate and volume controls to the Bronco, as they're chunky, well-spaced, and can be operated mostly by feel. The Bronco, my contrast, has an OK layout for these controls - but note that many of the buttons are flush, and cannot be operated without taking your eyes off the road.
The lockers and sta-bar disconnect are much more accessible on the Bronco, and the front/rear lockers can be operated independently, whereas the JLU Rubicon's lockers can operate front-only, or both (according to the Austin Off Roadeo - I haven't tested this particular function in my experiences with a Rubicon). Most of us probably won't actually benefit from the difference, but there it is in case you need it while crawling.
One thing drivers will appreciate in winter/summer is the AC fan speed "paddle" control. I wish more manufacturers would adopt this design, because it can be easily operated with bare hands or gloves.
General Interior
A small but appreciated win for the Bronco is the AC vent placement beneath the dashboard cowl. While the vents themselves cannot be fully closed like the Wrangler's, they are protected from downpour to some extent by virtue of being recessed a few inches underneath the top edge of the dash.
There's no "oh sh!t" bar in the driver-side dash of the Bronco, which has long been a hallmark of the Wrangler. Instead, Ford gives us side-mounted grab handles. They're a great styling element, but not as helpful for a driver who's being bucked around on a bumpy trail. With the doors on, it's somewhat awkward jamming your hand between the dash and the door to use these handles. Hopefully Ford will fiddle with the design and improve this over time.
G.O.A.T. modes are a ton of fun to scroll through with the Bronco's selector wheel. They've added a rubber ring - the only moving part - to avoid accidental transitions between modes.
Ride Quality
Much smoother on the road. The Sasquatch suspension soaks up speed humps, curbs, and potholes a little more nicely. Cornering is where the Bronco really shines, without noticeable body roll at moderate speeds.
Rear Seat Amenities
The Wrangler is more hospitable to rear-seat passengers with air vents and cup holders, and a generous fold-down center armrest with additional cup holders and plenty of room for two people to rest their arms comfortably.
The Bronco does, however, have about the same amount of under-seat storage in the rear, and an unobstructed view of the sky (the Wrangler has a roll bar cross-member between the front and rear seats - Jeep mounts speakers here which provide a better audio experience IMHO).
Miscellaneous
The Bronco's HD Modular Bumper beats the hell out of what Jeep offers on any of the Wranglers, with plenty of mounting points for bolt-on mods. Combined with the pre-wired aux switches, the Bronco is much better designed for electrical add-ons, whereas doing this on even a newer Wrangler requires the removal of many trip pieces. I've lost count of how many Jeep mods require wiring through the glove box.​
​
Capless filler: game changer. You'll never forget your gas cap again, and the dreaded small evap leak ECU code us former Jeep owners know all too well (triggered by bad seal on the gas cap) should be a thing of the past. I do wish there were an option to lock the gas door, but I'm not losing sleep over it.​
​
Soft top: I do love the Bronco's soft top, but there's no denying that the Wrangler JLs leave you better rear-view visibility because the top mechanism hinges from halfway up the roll bar, whereas the Bronco's top hinges from the bottom of the roll bar - meaning there's more mechanism eating into your rear view horizon. Even so, the Bronco's top is easier to remove, the windows are more secure, and overall it just looks more refined (anyone else ever notice the "humps" in the profile view of a Wrangler soft top?)​
​
Infotainment: UConnect is a joke. Their largest screens are tiny, have a very foggy plastic look, and the UI is a nightmare to navigate. You can tell Jeep is still waking up from the monopoly they've held in the convertible SUV market.​
​
Exterior Styling: entirely subjective. Personally, I love the look of the hood vents included on the Wrangler Rubicon - it gives the vehicle a brawny, tough look. The Bronco is a bit featureless by comparison, but many drivers might prefer the toned-down feel of the Bronco's hood and sides.​
Last edited: