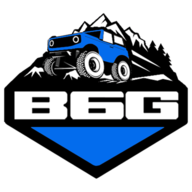 Administrator
Staff member
First Name

Doug
Joined

Jan 26, 2015
Messages
Reaction score

14,877
Vehicle(s)

Ford
Bronco

Undecided
Via
Road & Track
"When the teaser image [of the truck under a cover] came out, I though it looked like a Gen-1 Bronco or maybe the 2004 concept," says Michael Clark, the graphics artist responsible for these renderings.
"I was dying to see it uncovered. A few weeks went by and I hadn't seen anyone take on an overlay project to see what it resembles." So he set to work.
"I was wondering what you could come up with by reverse-engineering it, building it out from the teaser lines. Kinda like how CSI reconstructs faces from human skulls, or how they rebuild dinosaurs from their skeletons," Clark said.
"So, starting with Ford's teaser image, I started working on it in Photoshop," said Clark. "I masked off the obvious roofline, windshield, and hood area first. Cut out the wheel wells next. That was all pretty obvious."
"I then found a profile shot of the 2004 Ford Bronco concept and overlaid that. The roofline, windshield, and hood were very similar," said Clark.
Clark's next stage was to build a mock-up using the '04 concept truck profile, aligning it with the shape of the teaser image of the truck under the sheet. As you can see, they were very similar.
But the '04 Bronco concept wasn't an exact fit. "I had to lengthen the wheelbase, angle the rear hatch area and lengthen the doors a bit," Clark said. He also created new bumpers and repositioned the wheelwells.
"Since the '04 concept was so close to the teaser, I used much of that detail," Clark said. "The general shape, the hinges and the J-shaped lines on the sides, running up the doors."
Clark smoothed out the roofline compared to the blunt, ribbed profile of the '04 concept.
Clark used the wheels from the 2019 Ford Ranger, along with modified Ranger fender flares.
He added the Bronco fender badge that he originally designed for a different concept rendering he did for Road & Track back in 2016, along with the FX4 rear insignia.
New side-view mirrors, finished daylight openings, and the gas cap and door handle from the current Ford F150 finish the design.
Naturally, these unofficial renderings simply represent our best guess at what the 2020 Ford Bronco might look like. Aside from the teaser image of the truck under the sheet, Ford has hardly spilled any details on the new SUV.