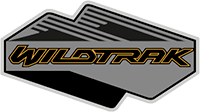 Administrator
Staff member
First Name

Doug
Joined

Jan 26, 2015
Messages
Reaction score

3,335
Vehicle(s)

Ford
Via
Motor1
Ford To Goodyear: Get 'Wrangler' Off The Bronco's Tires
July 15, 2020
Automakers are like politicians – they're loathe to acknowledge a rival. Instead, other brands and their products are "the competition," or something similar. But in developing the 2021 Ford Bronco to beat the snot out of the Jeep Wrangler, the Blue Oval ran into an issue: one of the most popular off-road tires on the market is the Goodyear… Wrangler. Oh dear.
It just wouldn't do for Ford's most significant new product in years to feature its arch-rival's name five separate times on the exterior. After all, how silly would a Mustang look with "Camaro" all over it, or an F-150 with multiple "Ram" logos? Exactly. And that's why when the new Bronco arrives in Spring 2021, it will do so with special Goodyear tires that lack the typical Wrangler badging. But not entirely.
As we said, the Goodyear Wrangler is an extremely popular off-road tire, so while the name won't be outwardly visible on the Bronco, according to Ford, there still needs to be small Wrangler markings on the inside of the tire.
Ford confirmed this to Motor1.com, with spokesman Sam Schembari saying,
"[The Wrangler name] will be removed from the Goodyear's side wall on the outboard side. Bronco Customers will not see it unless their tires are off the vehicle and the inboard side is visible."
Why not strip the word off entirely? According to Schembari, it's because the Wrangler name is "still part of [Goodyear's] aftermarket branding."