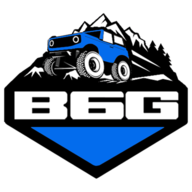 Administrator
Staff member
First Name

Doug
Joined

Jan 26, 2015
Messages
Reaction score

7,585
Vehicle(s)

Ford
We just got our first solid look inside the Ford Bronco Maverick (aka the Baby Bronco), showing more rugged interior design elements compared to its Ford Escape platform-mate.
Key elements of the Baby Bronco's center stack are visible, revealing a revised infotainment and vent layout from its more car-like cousin. While the new Ford Escape has sleek, flowing shapes with slim air vents mounted relatively low on the dashboard, the Baby Bronco gets chunkier, vertically-oriented vents flanking its decently-sized LCD display. The primary row of infotainment controls—and the attendant Volume and Tuning knobs—look like they're lifted from the Escape, but the addition of the Hazard button makes for a slightly different interface. The Bronco Maverick's Start/Stop button is placed flush on the center stack, while its tucked away a bit more elegantly on the more sleekly-styled dashboard of the Escape.
The HVAC controls are covered on this prototype, but they're most likely mounted on the lower-third of the center stack—likely utilizing parts very closely associated with the Escape. This prototype's steering wheel also looks to be lifted directly from the Escape. We also see the same rotary transmission selector, and an array of console-mounted buttons that appear to be shared between the two models.
Much of the Bronco Maverick's exterior design has been revealed, due to leaks and internal spy photos, but the nature of its interior design had been a mystery—until now. We can now get a taste of the design direction Ford stylists have applied inside the Bronco Maverick, in order to set it apart from the more polished Escape that entered Ford's lineup last year.