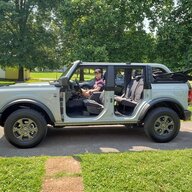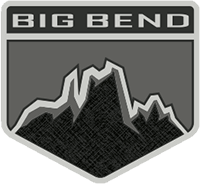 Well-Known Member
Some (
@604Bronco
) were asking about size comparisons. I parked next to a 4Runner SR5 today--it had TRD wheels but not sure if it was or not. Here are some comparison shots--it's exactly the same size as the Bronco on stock 32's:
Also, I've driven nearly 500 miles so far, and I'm averaging 21 MPG in my 2.7. I've travelled Interstate @ 75mph, highways @ 60, and stop-and-go traffic. I use cruise almost exclusively on hwy/interstate, and the top is the position you see above, meaning more drag.
On a related note, the cruise is fantastic. It holds even downhilll, and doesn't drift up 5+ mph like other vehicles. Rarely have I seen the tach go over 2000 rpm, a tribute to the torque of the 2.7.
Extended observations:
1. The lack of rear vents is a real issue. The kids were tired of the wind so I closed the top/windows and turned on the AC. They were hot in 90-degree weather.
2. The rear seatbelts
really flap in the wind
. Even buckled with no occupants they flop and shake. I may end up using velcro straps the stop the issue.
3. If you remove the doors,
make sure you tighten the upper bolt tightly when putting them back on.
I was afraid of overtightening and they walked out. You can tell because the doors pop when you open them.
Last edited by a moderator: