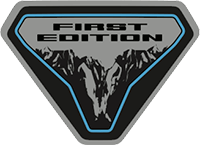 Member
Bronco Raptor rendered with Camo removed.

Is it me, or do the fender flares look absolutely atrocious!?

It's like a sea of plastic.

IMPORTANT: Go to time mark

10:52

in the YouTube video to hear what Mitchell Watts thought of the Bronco Raptor after seeing it in real life. He was given exclusive access and said that after seeing it, the fender flares looked terrible!
Isn't it a legal requirement in 5 states or so to have flares cover the treads? I believe this is actually smart to make them not part of the body given how easy it is to remove them. Then you can run no flares or aftermarket flares if your state allows it.