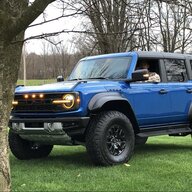 Well-Known Member
Heritage Package:
Price: $2,295
INCLUDES:
-Oxford White Modular Hard Top
-Oxford White Door Handles
-Oxford White Limb Risers
-Heritage Package Exclusive Silver Colored Grille
-White Skid Plate
**Fenders and rims will NOT change to a white color.
You will be able to add the heritage package to your bronco in the same way you would add a vinyl decal package.
The 4-Door Cactus Grey is the best look at what the Heritage package will be.