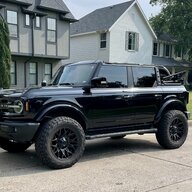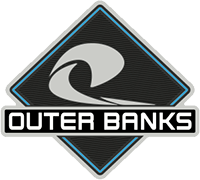 Member
First Name

kmach321
Joined

Apr 19, 2022
Threads
Messages
Reaction score

33
Location
Vehicle(s)

23 F150 Tremor
Your Bronco Model

Outer Banks
I utilized this forum throughout the process of researching, ordering, and customizing our Bronco. Now that I have the build how my wife wants it, I figured I'd share some info back to the community and field any questions.
Goal was to get a good looking daily driver that can still handle dirt roads and hunting trips. We save the hardcore off-road for the UTV's (please keep any hate or negativity to yourselves). I will go through the items from largest to smallest in the thread. Here is a pic of the finished product:
Here is where we started...factory line photo!
Rough Country 2" spacer lift:
Within days of receiving, I rolled it into my humble garage and installed the 2" Rough Country spacer lift. Took me pretty much a full day's work doing solo (split across 2 days). Only had a few small challenges, but overall went smooth. I opted to go the route of removing the front LCA vs the instructions of removing axle nut. I researched the pros and cons of both options and this is where I landed. I used this video for my main guidance.
I would say I only had 2 real challenges.:
-#1 - It was challenging getting the rear struts back in there after attaching the spacer....space is tight and no one really mentions that you rotate the strut to reinstall.
-#2 - It was challenging getting the rear sway bar back into alignment. I ended up using a combination of a floor jack under the diff, bottle jack under the passenger axle + ratchet strap to kinda winch it over for the bolt alignment. Super janky, but it worked.
Here are some measurements. I was pretty happy with the outcome of the kit...got me exactly where I wanted it
| | | | |
| --- | --- | --- | --- |
| Ground to Fender | Before | After | Increase |
| Front Driver | 36.313​ | 38.313​ | 2.000​ |
| Front Passenger | 36.125​ | 38.375​ | 2.250​ |
| Rear Driver | 37.750​ | 39.500​ | 1.750​ |
| Rear Passenger | 37.625​ | 39.500​ | 1.875​ |
| | | | |
| AVG Front | 36.219​ | 38.344​ | 2.125​ |
| AVG Rear | 37.688​ | 39.500​ | 1.813​ |
| | | | |
| Front Rake Before | 1.469​ | | |
| Front Rake After | 1.156​ | | |
Wheels and Tires
Bit of a story here. The rims we wanted were on serious backorder everywhere.
@Discount Tire
has always treated my right, so I ordered a package deal from them and started the waiting game.
In the meantime, I wanted to preview what it would look like blacked out. I bought a Hyperdip $130 Wheel Kit + 1 extra can for the spare(higher-end line of Plastidip). Cleaned wheels and got to spraying. It made an absolute mess. If you are going to do this anywhere besides over dirt/gravel, lay down plastic. Lots of plastic. I did it with the wheels attached, but not sure I would do it that way again...had to tape+plastic lots off. Best to do it upright so the cans spray properly, but made a mess regardless. Cans sprayed splotchy, finish was hard to perfect, etc. But it got the job done as a temporary solution. Here is a before and after pic (lift already installed).
After a few months of lead time, the wheels finally came in. It was now time to mount up and install. Here are the details:
Wheels = Fuel Twitch 20x9 +01 offset (D77220909850)
Tires = Nitto 35 x 11.50R20 Recon Grappler (218-090)
- I went with the 11.50 width over the "standard" 12.50 for a few reasons. Mainly it was a weight play. These were about 10lbs lighter...less weight on vehicle components (steering, drivetrain, tailgate, etc). Didn't need the heavier ply and extra inch....like the way these poke, but not too much. Still tall, but not too fat. Came out right where I wanted in my personal opinion.
- Skipped the Spare Tire tailgate reinforcement. No sag, currently no issues. I did, however, use a 2 black racquetballs for as spacer wedges for the bottom stabilizers....it works great and takes some pressure off when slamming the gate, hitting some bumps, etc.
- Here are some more pics the day we got them installed:
Diabolical Slipstream Cargo Enclosure
This was a tough decision for me. In the end, I saw value in the design and flexibility of the Slipstream system over the OEM (Tuffy) options. I was leaning towards the Tuffy raised lid version, but once I realized the process to remove the front wall, I moved onto the Slipstream.
Slipstream is a good product...sturdy and durable materials, made in USA, helpful and engaging owner, excellent design/engineering, impressive packaging, etc. However, it has some drawbacks. The installation is a 4+ hour, serial process of following along and piecing together multiple installation videos (soft-top option). Lots of alignment to get things right.
My number 1 complaint was overcoming the rattling challenge. I watched the "Slipstream Maintenance" video, I scoured the forums, I searched for any and all options. This thing rattles once installed...there should be no debate around that. The metal on metal, the enclosure lid, and most notably the quick-release pins. After days of incremental improvement and test runs I got enough additional foam padding spread out, bolts tightened, and Plastidip'd the pins to finally get it to an acceptable level. It is finally quiet, but the pins are now extremely challenging to pull out due to my rubberized coating hack, but it's a trade-off to keep the rattling down. Perhaps others don't have this problem or found a better way to solve it? I am still torn on if I should have just gone with the Tuffy brand, but time will tell to see how often I fold down the front wall and/or remove the lid with the Slipstream efficiencies and superior design/engineering.
Regarding the foam padding on the top....Wife didn't like the Diabolical skull logo and I didn't like the price. I later purchased some Marine foam decking off Amazon (
https://www.amazon.com/gp/product/B09GVC1RVN/ref=ppx_yo_dt_b_search_asin_title?ie=UTF8&psc=1
), cut it, and installed. Worked great for my needs.
Xpel Ceramic Tint
Went with Xpel Prime XR Plus on all 4 windows and clear on windshield. Keeps the heat out...darkens things up...filters UV and IR. No brainer for me....best money I've spent.
Jtops Bimini Shade
Pretty solid product, I've been very happy with it. Does what it says...keeps the sun off of you and makes a world of difference sitting at a stoplight mid-Texas summer. No flapping, no issues.
WeatherTech Mats
I am very happy with these mats. Evaluated Husky brand....but kinda a toss up for your average consumer. One consideration is that I wish the rear cargo mat had a lip for the rear cargo ledge. In hindsight, I might have ordered the Ford Factory cargo mat as it has this lip covered as part of the mat.
Modified Crash Bars from 4WP
Plenty of debate over these, but for $216 total, the safety + peace of mind is worth it. Simple install, would recommend.
PPF, lettering, vinyl, etc.
- Bought mostly everything from
@StickerFab
....great buying experience. Ford Emblem Vinyl, CF door kick plates, CF roll bar PPF, CF cargo protector, etc...too much to list.
- Tuffskinz Grill Lettering. Easy install, came out perfect.
- Added a heavy amount of adhesive padding around the soft top folding mechanisms to avoid the dreaded roll bar scratches.
Curt Receiver Hitch
I skipped tow package on my order to get it in sooner. Won't do much hauling, so wasn't too bummed about not having the trailer lights. Bought this for $100 and install was a breeze....15 minutes tops.
Other small things
- Removed factory Badge (hairdryer and plastic tool) and bought a Bronco Script Badge off Etsy.
- Console and Glove box organizer from Amazon...this made a huge difference!
- Bartact Fire extinguisher mount
That is all for now. I had some other items on my original list; but think it's currently at a good place for our want/needs. I was originally planning on adding ARB Zenith front/rear bumpers, but have since cooled down on that. Any suggestions welcome.
Hope this helps anyone out there trying to make decisions. I will answer any questions I can. Happy Bronco'ing
Last edited: