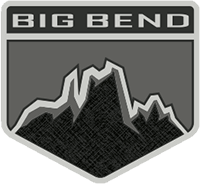 Well-Known Member
Excellent info, thanks for sharing. Just a note on my experience with fuel mileage. I have noticed a big drop when traveling over 70 mph. On a recent trip to Moab, we averaged almost 26 mpg on our way back to Utah county. I kept my foot out of it and tried to keep the speed down to 65 mph. This is with our 2.7 4-door Badlands.
YUP.
Terminal velocity with a box. That's my highly technical explanation. I have the optional 4.27 gears w/ 2.3 (I knew I was going 35s). 2 door. Speedo was corrected by me (Forscan) and it is dead nuts accurate w/ GPS.
60mph speed limit - cruise set at 67-69mph - it gets surprisingly good gas mileage.
65mph speed limit - cruise set at 72-74mph - not horrible
70mph speed limit - cruise set at 77-79mph - ignore it, turn up the radio and convince myself I need to stop for a drink anyway when I need to get gas because of the tiny gas tank.
Guess I'm spoiled by my '12 F150 FX4 5.0 - it has a 36? gallon tank. Almost 600 miles on tank of gas at Interstate speeds. But of course filling it up makes me cry.