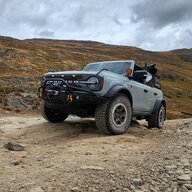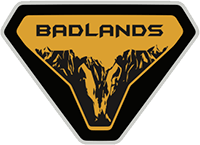 Member
I'm 6' 7" and the largest concern I have had going through this purchase has been legroom "knee room", 43.1 specs on the 4 door and it was the same legroom on paper as my wife's Highlander... Now granted, I have taken that Highlander thousands of miles over the years, but it hasn't always been comfortable driving. My daily is a lifted F150 and that has a ton of room for me to stretch out.
Had an opportunity to sit in a FE 4 door and a Manual Badlands 4 door at a Bronco event near Cleveland and let me just say, I am pleased about the knee room that I had. This wasn't uncomfortable for me to rest my knee on the side, especially in the FE as it had AT. I would say for those tall manual drivers, your knee may come close to the GOAT dial, but felt like I had room.
Let me tell you though, there won't be much room behind you for passengers, seat was all the way back and will suit kids, but no 6 footer kids/adults behind a tall driver.
Posted a couple pics of the knee room, you have already seen all the other photos you need if you have been on here for a minute. Hope someone finds it useful, it sure put my mind at ease.
MY21 or Bust!
-Wade III