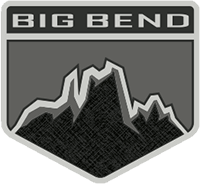 Well-Known Member
First Name

Stephan
Joined

Mar 30, 2021
Threads
Messages
Reaction score

128
Location
Vehicle(s)

2021 bronco big bend
Bronco

Big Bend
I received my big bend 2.3 10 spd auto with a soft top about 6 weeks ago. I put 1600 miles on it mostly highway then changed the oil and filter because i had a pretty tough road trip planned. Last week I drove it from near atlantic City NJ to Gettysburg SD to do some pheasant hunting, a distance of about 1700 miles each way. I was on interstates through NJ,PA,OH,IN,IL,WS,MN,AND IA. My speed on these roads was around 74 mph and on the trip back we made it in 26 hrs only stopping to let the dogs out and use the facilities ourselves. Here is a brief review of my impressions.
1. comfort And performance
=We had the Bronco packed tight with 2 adults and all the gear and 2 Brittanies. In the receiver hitch I had a cargo carrier with a 150 qt cooler with fish going out and game coming home. We were on mostly interstates with 2 lanes and were always running with the "Big boys" meaning semis with anywhere from 1 to three trailers moving at 70-75mph. The bronco had no problem keeping up with and passing the big rigs. It was stable and was not affected by the trucks any more than my f150 was. The 2.3 had plenty of go with regular gas and the trip of 4600 miles averaged 20.1 mpg. We averaged about 420 miles between fill ups. It was very comfortable to drive for long distances. Truthfully I believe that the ride was as good or better than my 2017 f150 that I had 78k miles on. The steering was very responsive and after I got used to how quickly it reacted to steering wheel movement, it was a joy to drive light pressure on the wheel kept us rock steady even riding alongside an 18 wheeler. As far as noise goes in the cabin at speed, it was not loud or a problem in any way. My copilot said that he couldn't believe how little noise there was even with the soft top. While in SD, I ran the 4 wheel high while driving through corn fields and cover to get to where the birds were and it never missed a beat. I did notice that rpm's were higher in 4wd. Overall I was really impressed with the truck and I am really glad I have it. It's fun to drive!
Improvements I would like to see.
- the front seat head rests are a bit of a problem. They are fixed as to forward and back movement and you have to play with the seat to make them work. If they made them the same as my f150 had, that had several positions available, that would be great.
The rear seat backs are straight up and down and for some folks who like to recline slightly, it is not comfortable for extended trips. We had to go 80 miles with 3 guys in the truck a couple of times and it was a problem. My dogs rode there for the trip and never complained but the 6' tall guy did.
the synch lady would come on without me touching any controls and say "how can I help you? Please say a command". Kind of a pain in the butt and perhaps there's an update for the software that would solve the problem.
It would be nice to change the screen display on the left side. An analog speedometer and a digital are simply redundant.
ive noticed a slight rattle on what appears to be the passenger side rear door when I hit a rough spot while driving. I'm pretty sure I can figure out what the problem is but it shouldn't be happening.
when I got back I took the truck in for an oil change and tire rotation and while I was waiting talked to several service reps. One guy told me that since I had been running 150's for 20 years he figured that I would not be happy in the bronco.. Boy was he wrong!
Last edited by a moderator: