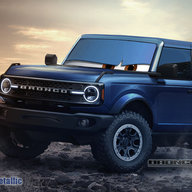 First Name

Devin
Joined

Feb 7, 2020
Threads

19
Messages
Reaction score

1,457
Location
Vehicle(s)

2000 Mercury Grand Marquis, 2017 Honda Civic, 2019.5 Chevy Silverado
Vehicle Showcase
Doing a complete run down of the Bronco 6G. Because I'm bored and we have 5 weeks to kill, also this thread is ONLY ford the T6 G6 Bronco.
The Bronco Sport model's complete rundown is posted at the Bronco Sport Forum.
https://www.broncosportforum.com/fo...down-because-there's-nothing-else-to-do.1066/
*This post will be updated as more info needs to be added.
It all started back in the early 60s when Ford wanted to take on the Jeep CJ 5 and International Harvester Scout but offer more family friendly amenities. Enter the first 1966 Ford Bronco. A jeep but better! A completely unique midsized SUV on its own platform.
Then in the 1978 Model Year Ford decided that the Bronco should be bigger, in order to fit more of the Family. Because everything was massive in the 70s. To save Money ford used the F150 platform. From then on the Bronco was more or less a Shorter wheel base F150 SUV sharing styling, drivetrains and parts.
However first gen lovers wanted another small bronco. Enter the 1984 Ford Bronco II. based on the new midsized truck, the Ford Ranger. However due to its weak motors, and tipping hazards, the Bronco II didn't last. Ending production in 1990. Being reby the new family friendly, Ford Explorer.
The F150 Based Bronco didn't last much longer after the end of the Bronco 2. Ford was having tremendous success with the Explorer over the old Bronco II, 4 doors instead of 2. Lower for ease of accesses. 2 rows and a massive cargo area to fit the whole family and dog.... so they made the Decision to axe the bronco. With the last one rolling off the line 24 years ago on June 12th 1996. in its place was the massive family friendly 3 row Expedition.
Since that day enthusiasts have been BEGGING ford to bring back the Bronco. A fun 2 door off-roader. There were many rumors and theory's. Even ford fed the flames back in 2004 with its own a Concept car. Which was far from production. It was a Unibody Ford Escape with a body kit and a 2L diesel.
From then on it was just fan concepts and rumors for years and years. Until one fateful day... August 27th 2015
Ford Files the name Ford Bronco with the Trademark
office back in February.
https://www.bronco6g.com/bronco-trademark-filed-by-ford/
Could be just a renewal but It could be more and boy was it more... enter the UAW collective bargaining agreement of 2015.
Every 5 years the UAW renegotiates its contracts with the BIG3. Ford had made it very clear that they wanted to cut back and even eliminate sedans in the USA. But the UAW said, if were not making the Focus anymore, what will the Wayne plant make? Ford said "The new Ford Ranger starting no later than 2018 and new Ford Bronco starting no later than 2020"
https://www.bronco6g.com/ford-bronco-may-return-with-ford-ranger-according-to-latest-rumors/
To me when I read that, I figured Ranger Built Fall of 2018 as a 2019 Model and Bronco in Fall of 2020 as a 2021 Model.
Talk about MASSIVE news. Not only was the Ranger Returning after a short discontinuation. But the Bronco was returning! But what will it be? What will it look like.
Ford Finally OFFICIALLY announced the Bronco at the 2017 NAIAS
. not really saying much, Other than the Bronco will be a fun rugged suv build along side the ranger in michigan (presumably on the same platform)
https://www.bronco6g.com/20202021-f...returns-in-2020-as-global-rugged-midsize-suv/
When questioned engineers stated it will be a completely new vehicle from the ground up on the ranger platform. Not a face lifted Everest from Australia. (Where the bronco was being developed)
https://www.bronco6g.com/ford-bronco-to-be-completely-unique-from-the-everest-ford-ranger-t6-sized/
Threw out 2018 info and spy photos trickled out. But the biggest info was, there will be a whole family of Broncos, multiple SUVs squaring up at Jeep. Including but not limited to a new rugged unibody bronco.
https://www.bronco6g.com/bronco-to-spur-sub-brand-with-multiple-models-including-baby-bronco/
From then on multiple spy shots and Information leaked out. Which I'll get to in a little but first. I will get two the 3 new Ford Vehicles fallowing the Bronco and Bronco Sport.
1st the
Bronco TRUCK
. A Bronco based midsized pick up, also to be built along side (not replacing) the new redesigned ford ranger. Expected to be released ~3 years after the bronco with the Ranger to go head to head with the Gladiator.
https://www.bronco6g.com/rumor-ford-bronco-pickup-truck-in-the-works/
2nd is the
Bronco Sport Truck
Aka Maverick. A Unibody compact pickup based on the Bronco Sport. Roughly the size of the 80/90s Ranger.
https://www.bronco6g.com/forum/thre...n-cad-image-possibly-bronco-sport-based.1271/
3rd is an
unknown vehicle
. To be built In the Ohio plant. Where large trucks and vans are built. It could be a new Excursion or a Full Sized Bronco.
So now that we've gone over how we have gotten here, and what new ford products are joining the Bronco Family. Let's go over why we are here.... what's the New Bronco going to be like.... (Bronco Sport see the Bronco Sport Forum)
https://www.broncosportforum.com/fo...down-because-there's-nothing-else-to-do.1066/
COMPETITION
The main competitor to the Bronco is the Jeep Wrangler. Other competitors include the Toyota 4Runner and Land Rover Defender.
PLATFORM
The platform will be an updated T6 body on frame platform from the Ranger. Offering a Short and long wheelbase, for a 2 door and 4 door version. Built in the Wayne Michigan Assembly Plant along side the Ford Ranger.
SIZE
Hard to gauge the exact size of the bronco. (This will be updated as we get more info) but general guesstimations of the sizing are;
WB an L - 2 Door bronco will be slightly larger than the JL. (97/ 167) and 4 Door slightly shorter than the JLU (118/189).
Width - Looks to be just slightly wider vs JL (especially the off-road trims).
Height - Similar.
Cabin/ Cargo space will be comparable to Wrangler however I expect ford to edge out that comparison due to added width
TRIMS
No official word yet on what trims there will be or what the names will be. But what it sounds like is there will be 5 POSSIBLE different "Equipment" packages.
Street
(base),
Off-road
(FX4),
Hardcore
(FX4+) and
Raptor And Rock King
(Raptor and Rock King won't be available until ~2 years after launch FALL 2022). These packages will be available with different trims. (Think XLT and XLT FX4). For the sake of this post, I will be using the Rangers trims as the talking points. I believe the bronco names will be completely different. So for the Bronco you will have something like:
-- XLT, Lariat, Limited for the base package.
-- XLT FX4, Lariat FX4, Limited FX4, for the off-road.
— " "PLUS
-- Raptor AND Rock King
I also believe there will be some kind of special editions thrown in there but all of which can be traced back to those trims.
https://www.bronco6g.com/forum/threads/trims-and-pricing-spreadsheet.1429/
POWERTRAIN
We don't know much about the power trains for sure. Thats one thing ford has kept tight to the chest aside from the base engine. But for the most part we know for sure the base engine will be a 2.3L in-line 4 cylinder ecoboost motor with 270 Horsepower And 310lbft. Similar to what's available in the Ford Explorer and Ranger.
After that things get a little murky. We know that there will be at least one more gas engine available and that's a v6 ecoboost. The BAJA raptor R featured A v6 turbo motor that ford engineers stated was from the stock bronco. But never said what size or what output. The vast majority of people agree that it will be the 2.7L V6 twin turbo ecoboost engine. Question is which one. the 325hp 400lbft version in the 2018+ F150. Or the 335hp 380lbft version from the Ford Edge and Lincoln Continental and Nautilus. My guess is the Ford Edge motor to leave more room for improvement for the..... RAPTOR. Rumor has it that the Raptor will be getting a 3.0 Aluminum v6 twin turbo ecoboost engine from the Ford Explorer ST/ Lincoln aviator. Making 400hp and 415lbft.
The next motor we know is coming is some kind of Hybrid. The safe bet here is the Hybrid system from the Ford Explorer. 3.3L naturally aspirated v6 combine with the electric motor making 318hp and 322lbft.
Also there could be a hybrid system from the new upcoming ranger rumored to be a I4 hybrid, to debut in Australia. Using the 2.3 ecoboost paired with an electric motor making 360hp and 500lbft!
Lastly is the possibility of a Diesel motor. In order to take on the new Ecodiesel wrangler. Likely would mean the 3.0L V6 twin turbo PowerStoke making 250hp and 440lbft from the f150. However chances are low. Wrangler had a huge uphill battle with the EPA in order to get the motor to market. And ford is already not happy with the epa after the lost battle over the 2.2l ecoblue diesel.
The question is what motors will be available on what trims. I think on the lower trims only the 2.3 will be available. Not until you go up the chain Will you be able to get the 2.7 or hybrid or diesel Option. (Similar to Explorer) where the Raptor will only get the 3.0EB.
Dont expect a V8 or 3.5L V6 Twin Turbo ecoboost in the bronco from the factory. Both motors are two large for the engine bay to be practical.
TRANSMISSION
The first transmission is a 10 speed automatic. Similar to the one found in the Ford Ranger. The 10R80. However ford is currently working on a beefier 10R100. Which very well could be for the new bronco.
There is also a manual transmission coming. A 7 speed (6 speed manual with a low gear) from Getrag. That would find a happy home in the Bronco. Now don't expect one to be sitting on the lot for you. Odds are you will have to order one.
Also worth noting that the automatic transmission shifter will be a center console shift lever. Not a button or dial.
TRANSFER CASE
Currently Ford only offers 1 transfer case for its light trucks and suvs. Found in the ford ranger. A 2.7:1 low gear.
The drive selector appears to be a dial selector with the traditional 2H 4H 4L. At least for now.
Now I imagine that transfer case WILL be in the bronco but only in the "base" package.. the "FX4" will likely see a lower gear. Closer to 4:1 to match Jeep. but no word from ford or any leaks at all about if that is happening.
AXLES
Something else ford is keeping very tight lipped about is the axel system under the Bronco. What we do know is it looks like it's going to be Solid Rear and Independent Front. And that's about it. The rear end is a Multi link solid rear end. But it could be anything from a Dana 33 or 35 or 44. With anything from a 3.7 rear from the Ranger or a new ~4:1 ratio. Now once again I think we'll see different set ups in the FX4 from the base street package. Street package could have a Dana 33 with 3.7 ratio and FX4 have a dana 44 with a 4:1. Who knows. But sounds like a good possibility.
The front end is a complete mystery aside from it being Independent. But I think it will be similar to the rear I just mentioned. Different axels and ratios for the base and off road trim. Maybe even different travel.
Now one thing we have not seen is a SOLID front axel. However there is rumors that some of the early test mules did have a solid front end. Maybe a rock crawling package is coming later on the Rock King Trim. Who knows at this point.
LOCKERS
Spy photos of the interior seem to show locker switches. Now once again i expect them to be related to packages. road version may only have limited Slip. FX4 on up have both front and rear lockers AND sway bar disconnect.
One feature that seams to be including in certain models is Rear Dig. Disconnecting the rear diff to allow the front end to turn tighter.
SUSPENSION
Now we havent seen or heard much on the suspension. But once again I think we will see different set ups on the base vs FX4 vs raptor.
One Bronco prototype has been spied with an off-road package with bypass Coil Over shocks And sway disconnect. No telling if this is a lower or higher end model tho.
Now one thing we did hear about is ford Patent for an advanced adaptive off road suspension. (G.O.AT.) Some super advanced system capable of lifting tires off the ground for clearance. Now this definitely sounds like a premium option. so no idea if this is fully coming to bronco or just the raptor or not at all.
TIRES
4 different tires have been spotted on the Bronco Test vehicles and i bet they are for the three different trim levels. Base FX4 and raptor.
255/65r17 tires for the street package. 285/70r17 (33") tires for the FX4 package. 305/79r17 (34") tires for FX4 plus And massive 315/70r17 (35") tires for the Raptor/ Hardcore off-road packages.
I am sure plenty of different tire and wheel packages will be available including bead-lock ready wheels.
BODY
both 2 door and 4 door version will be available. With EASILY removable frameless doors and roof. the Doors may be able to come off in sections and have a steel bar option. The roof may be available with a single solid top or a 5 piece modular top. As well as a possible motorized soft top or rat top. No word on whats available.
One spy shot shows what appears to be a light weight composite modular roof similar to what Jeep offers with the "Freedom" package. Where just the top can come off leaving the sides of the top on.
OPTIONS
Ford promises lots of official aftermarket parts for the bronco right at launch. Let your mind run wild what that may entail.
COLORS
A full list of colors has been leaked and you see them here ::
https://www.bronco6g.com/forum/thre...te-top-flares-grille-preview-renderings.1352/
i do FULLY expect more colors available at launch and more In the future.
There I'll also be 3 different grills available. No idea if they will be locked into certain trims.
PRICE
Now I expect the bronco to be competitive vs the Wrangler I don't expect to much of a price gap between the two if similar equipped.
2 Door
XLT under $30k (Dont expect to get That price right away, or at all, same way good luck finding that "under $60k C8")
Lariat $35k
Limited $42k
Raptor/Rock King $54k
4 door add $5,000
2.7 add $2,500
Diesel add $3,500
Hybrid add $4,000
FX4 add $3,000
FX4 PLUS add $5,000
REVEAL
Reveal is set for July 9th 2020. And it sounds like a full Bronco brand reveal. So both 2/4 door broncos as well as the sport. With possibly more info of future. The Bronco Sport is already in limited production mode making cars for epa/ iihs tests and wrapping up set up for full production.
AVAILABILITY
Availability will be after the new year. The bronco is expected to start production JUST before the end of the year. So expect them at your local dealer Early March. And 2023 Raptor available Fall 2022. 2022 Hybrid likely Fall 2021.
FUTURE
The Bronco brand will continue to grow and more and more Bronco related products are expected to come out in the next couple of years.
Ford Maverick (Bronco Sport Truck). - Revealed 2021. Available late 2021 as a 2022 model.
Ford Ranger - Revealed 2022. available late 2022 as a 2023 Model.
Raptors! - Raptor models of the Ford Bronco and Ranger are expected to be Revealed with the new ranger. In 2022 as 2023 models available late 2022.
Ford Bronco Truck - Revealed 2023. Available late 2023 as a 2024 model. With raptor trim.
Ford "UNKNOWN" - An all new Ford Vehicle is expected for the 2024 model year. Revealed some time in 2023. Available late 2023.
Last edited by a moderator: