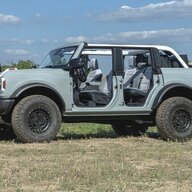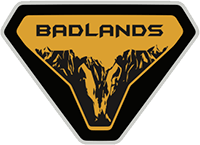 Well-Known Member
First Name

Dale
Joined

Jul 24, 2020
Threads
Messages
Reaction score

1,367
Location
Vehicle(s)

2021 Jeep Gladiator Mojave
Your Bronco Model

Badlands
I will have had my Bronco for 4 weeks tomorrow (picked up with 7 miles on Sat 7/16/22). I have less than 800 miles, and 100% stock 4 door Badlands Sasquatch with the 2.7 L v6 and High Package.
I was driving on the highway in ECO mode, just normal driving. Someone slides in front of me at an uncomfortable distance, so I press the brake to slow a little. When I pressed the brake it felt like the ABS was engaging. I felt a quick click click click in the pedal, and it just sounded weird. I did not slam the brakes or anything weird, it was a normal soft press to grow distance between me and the vehicle in front of me. I switched lanes, slowed down a little more and heard a similar noise then all of these warning lights kicked in:
Antilock Brake Fault

Pre-Collision Assist Not Available

Service AdvanceTrac
It all happened so quick I wasn't able to read all of the messages in detail, but it also said driver mode disengaged, or no longer available and switched me back to normal drive mode. There was also a message that the traction control and ABS was disengaged.
Other than the initial weird clicking and disengaging the drive mode, the vehicle was driving fine, just with 3 warning lights above. I pulled off at the nearest exit and stopped to turn the vehicle off then on (hoping it would reset). When I did I also received a
"Park Aid Fault
". I was able to get a couple of pictures of the warning lights and fault messages at this point.




I tried turning the vehicle off (letting it shut down completely) and then back on a couple times but I still kept getting the same alerts. Fortunately I was able to drive home. When I got home I turned it off and just left it for a while. I went back a few hours later, hoping that it would magically be fine, but it's not! Now I have additional fault messages. I noticed that received the messages to my Ford Pass app on the initial faults. I read the messages and the solutions on how to fix. They didn't apply, so they weren't really helpful. I will post them too.
-The tires are the stock Sasquatch wheels/tires
-The grill was clean, but I did wipe it down just to be sure (to no avail)
Total alerts going on at this point (and it's just all out of the blue! literally nothing rough or weird, I didn't run into anything or run over a puddle. I was literally just driving home from work like any other day.)
Park Aid Fault

Antilock Brake Fault

Pre-Collision Assist Not Available

Service AdvanceTrac

Park Break Fault Service Now

Drive Mode Not Available

(I cannot switch drive modes)
I am going to check with the dealer tomorrow, see if they can get me in to have service take a look. I am hoping it's an easy computer reset - but I will keep everyone posted. I tried to search the forums for some similar issues, but I didn't come up with anything. The closest thing I saw was a thread on a thumping noise coming from the rear of the vehicle. After I pulled back onto the highway with the faults I did hear a weird thump, but I couldn't tell if it was some debris from the road or the vehicle itself. I'll be keeping my ears out for that as well.
Pics to come, and will update once I talk to the dealer. Hope that nobody else has these issues.
some additional faults once I got home:
Last edited: