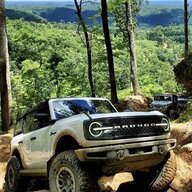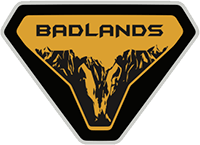 Well-Known Member
First Name

Bradley
Joined

Jul 19, 2020
Threads
Messages
Reaction score

1,147
Location
Vehicle(s)

18 Sequoia TRD sport, 98 Jeep, 92 GT, 93 Cobra
Your Bronco Model

Badlands
As a person who has owned both I wanted to give a review to help others make a decision. This is 100% just my option do as you wish with it.
AMP Research (Not on my Bronco but my F150)
https://www.amp-research.com/powerstep-running-board/2021/ford/bronco
The Good
They are easier to step on when getting out (If you look at the pic of Rock slide they stick out like 4in it does make it harder to get to the step)
They weigh less
Some may think it looks better not being so bulky.
Cost less
Sets higher (About 1in this is a guess based off other info)
The bad
Only good for street use (0 function beside as a step)
Looks (Personally I like the look of Rock Slides way better)
Doesn't drop as far (See Pics of Blue Bronco below)
Rock Slide
https://rockslideengineering.com/shop-rse/
The Good
You basically have 2 steps it sticks out so much you can stand on the casing and clean the roof or whatever.
100% made for offroad use (1000% strong just not fair to compare on this subject)
Great customer service (Never worked with AMP so they maybe great also but Rock Slide is great for sure)
Drops 9 1/2in (See Pic)
Helps keep rocks from tire off side of Bronco.
Helps keep rocks and trees when offroad off the side of the bronco.
The Bad
Sets about an 1 in lower
Heavy (But you are safer its like having bumpers on each side)
Little harder when getting out to step on the step. (See below)
This is my opinion
If I was buying a street only Lux ride keeping it more stock looking and wife drives the most or on a budget. I would get the AMP Research.
If I'm going off road and like the aftermarket look and its not 100% about making the step as easy and as comfortable as possible and not on a budget. Its Rock Slide 100% (Personally I think this looks way better if I had to do it again I would 100% buy this over the AMP Research)
One last thing I want to be very clear the stepping out isn't a big deal with the Rock Slide but if AMP is a 10 on a scale 1-10 on easy its am 8 for Rock Slide its still super easy just not as easy.
For me anything other than a Jeep or Bronco I would buy AMP Research But a Jeep or Bronco 100% Rock Slide for me.
Blue Bronco With AMP TOYO 35x12.5r20s on it.
https://www.bronco6g.com/forum/thre...-rails-and-added-amp-power-steps.41055/page-3
Last edited: