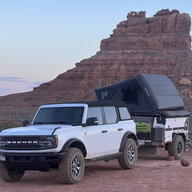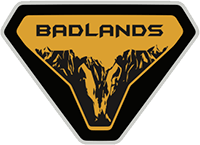 Well-Known Member
Joined

Jul 23, 2020
Messages
Reaction score

854
Location
Vehicle(s)

'18 GC Trailhawk, '05 LJ, '17 F150 3.5 Screw
And honestly not sure what is so important to tow that will be over 3500lbs but under 5k lbs except for maybe a car....And if it was just around town, tow the damn thing at 5k lbs...most important thing about towing in town is the brakes....and forget about towing a car on the highway with it, again, not something I would ever do...
An offroad camper that weighs 3400lbs. 3500 is cutting it too close. So in order for me to enjoy our bronco offroad when we go on trips to Moab, SW Colorado, Sedona etc. I see 4 options for me:
1. Im going to be forced to trade in my f150 for a f250/350 so I can throw the Bronco and camper on a bed trailer.
2. have the wife follow me on our 14 hour journeys in her Bronco.
3. find as much weight I can shed (Ex. 40 gallons of water in tanks) and tow it with the bronco.
4. Or forget about the super duty, sell the f150 for a gladiator diesel and forget the Bronco and keep the wife's grand cherokee as a secondary tow vehicle.