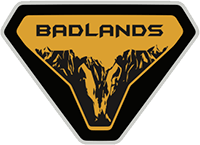 Well-Known Member
Like a lot of you I go back and forth between models on the Build and Price.
From my latest calculations a Badlands is the way for me to go:
If I build a Black Diamond with mid package, 2.7 auto I come out around $48000.
My Badlands build is $54,400 with 2.7, auto, 33's, and the high package.

The BD is missing:
The Bilstein shocks. I could put some 2.5" Fox on it for probably $4000
I am also missing the 33's. $1250 (I could probably sell the OEM 32's for 300-400)
I have no front locker and the lighter front diff.
I have no stabar disco.

So 48k+4k+900(tires)= 52,900 vs 54400 for the Badlands. So for $1600 I get the heavier front diff with front locker, stabar disconnect as well as the 360 degree camera system... Sounds like a heck of a deal to me.

Last time I did this calculation I didn't take into account that I would have to add (good) shocks to get the same ride quality as the BL. Since we intend to take ours off road extensively the ride quality is extremely important. as is the heavier front diff/front locker. The stabar disconnect is not necessary as I could manually disconnect it but would be a great convenience..

Thoughts?