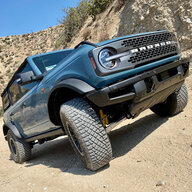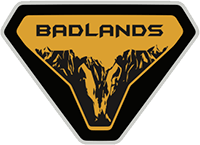 Well-Known Member
Joined

Apr 30, 2021
Messages
Reaction score

506
Location
Vehicle(s)

'21 Bronco, '21 Polestar
Bronco

Badlands
I just drove my Bronco (4 dr Badlands Sasquatch 2.7 liter with LUX package) from the Bay Area to Tuscon for a week and I was super impressed. That's about 1600 miles round trip plus about 500 around town once there. I didn't expect a big heavy "truck" with 35's to be a good highway ride but I was really wrong. It was very comfortable. Seats were great. Steering tracks really well and best of all if you need to get up and go to pass it does that with great ease. At one point I got up to 100 without even trying. I obviously don't recommend that but just know this bad boy can rock and roll.

I didn't get a chance to off road it other than to go down a dirt road which clearly doesn't qualify but I did sign up for the Bronco Off Roadeo in December and I'm looking forward to seeing what it can do. Ive never done any serious off-roading but I cant wait to get on it. I'm moving to Tuscon next summer and the other nice thing about having a Bronco there is the fact that the roads are in really rough shape so having a big truck makes driving around a bit more comfortable. Then there's the monsoon rains… no prob there either. Though I will say the wiper blades don't get nearly fast enough to compensate. Just be aware.

Couple things I noted on the trip in the cabin.

1. The AC seems to have its own mind and I did not have it on auto but every now and again it would turn up the fan to blast and it smelled like a clean hotel room. So odd. My husband and I were cracking up. Oh hey here comes the hotel smell again.

2. We averaged about 17.5 MPG in total. I tried ECO mode but honestly it made very little difference. I will say its nice to know you can drive it anywhere and any way you want and pretty much get the same MPG all the time. LOL. Hey I didn't buy this baby for fuel economy….

3. The Apple Car Play would just cut out and disappear then recycle and come back on in about 30 seconds to a minute. Not sure what that was all about.

4. Tired the auto start from the Ford app a few times to try to cool the cabin down in 100 + heat and while it worked the AC didn't really kick into high gear. If you don't get to the truck in 15 min it shuts back off again.

Overall I'm SUPER impressed. I love my Bronco more every day.

PS - I didn't see another Bronco during the entire trip. Kinda bummed. Cant wait to start seeing you all on the road! And be prepared to get stopped and be asked to have pictures taken with it. LOL. It's a big hit out there.
Looks great man - we have similar taste haha. I appreciate the beauty shots in different backgrounds and could look at em all day.
PS. I roundtrip to Colorado and then up to Mendocino in August and didn't see a single bronco - big or sport.