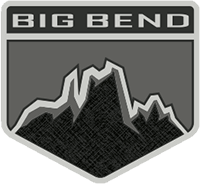 Well-Known Member
First Name

Matt
Joined

Jan 23, 2021
Messages
Reaction score

504
Location
Vehicle(s)

Toyota Prius
Bronco

Big Bend
Now that have a Bronco, time to pay it forward! I took delivery of my Rapid Red Big Bend Sasquatch about a week ago, picked it up from Long McArthur Ford in Salina, KS. They were great and honored the MSRP price and reimbursing me for travel expenses to pick it up.
Specs:
-Big Bend Sasquatch
-Rapid Red
-2.7L
-Mid Pkg
-Door lock keypad
-Interior Floor liners and cargo
-Door storage bags for in vehicle storage
-LED signature lighting
-Soft top
The drive home was about 650 miles back to NM, drove in ECO mode mostly at 75mph and got about 17mgp, normal mode was giving me 15-16, so it helps a little. If you didn't get sport mode on your trim, you are missing out because the extra kick of speed and acceleration is definitely present and can get you into trouble lol. I'll take sport mode over rock crawl if I had to choose one.
Visibility is AMAZING from everywhere, easy to see everything from almost any angle. The rear view mirror offers great coverage of the entire back window.
The cloth seats are great, aesthetically pleasing and very comfortable. Wanted leather or vinyl but they aren't really much of a downgrade. Very good quality.
At highway speeds, there is wind noise inside, but you can still have a conversation and listen to the radio at normal volume, at city speeds it's less noticeable.
The sound system, to me, sounds more than adequate at the very least, whether sitting in front or back. If I can hear audio clearly then I'm good…and I can!
Sasquatch is big, I'm 6ft tall and the bottom of the vehicle is slightly higher than my knees. Love the tires and vehicle height, I feel so tall on the road and I feel taller than many SUVs and trucks, mid and full size
People are definitely looking and want pictures and asking about it. Went for coffee last weekend and 2 dudes roll up in a full size Range Rover, which start at over $90k, and they couldn't stop checking it out! The Bronco is where it's at!
It amuses me when people ask how I like it because they are thinking of getting one but the wait is so long. Get in line because I waited over a year for it and many many others are still waiting that reserved before me. They simply have no clue, good things take time.
I'm really enjoying the soft top, much more than anticipated, because I can take the back windows out and flip the top down in 1 minute and go topless, and the bronco looks amazing topless! Plus the black cloth matches the red color and gray trim pieces ver nicely. The AC system works very well, I get blasted by it and have to turn it down because my hands get cold, and I need AC living in the desert. For winter I have the heated seats, but so far the soft top seems well insulated.
The one thing that annoys me that I cannot figure out is how to switch between approved Bluetooth devices on Sync 4. I find myself having to disconnect Bluetooth to stop that connection to then bring up a list of all devices to choose from. If someone knows an easier way to do this please let me know
No regrets over getting the 2.7L engine because the last few vehicles I had were 4 cylinder and I got tired of the slight lag when you do need to get up to speed quick. No lag with the 2.7 and makes it extremely fun to drive, however the smaller engine I'm sure is great too.
Overall I LOVE this vehicle, too bad they are getting rid of the Rapid Red color because everyone who has seen it says it's the perfect color for this vehicle. I went back and forth between dark and light blue, then gray and bright red. Settled on Rapid Red one day before the deadline to update my order and it's the right one!