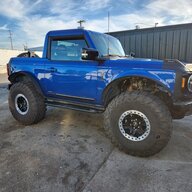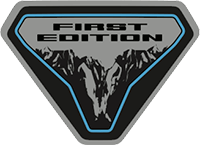 Well-Known Member
Well here's a few initial pics of the 40s. Went with yokahama geolander X-MT 40x13.50r17. These are the factory ford beadlock rings. They allow the wheel to become 9.5" wide with the ring, or 8.5 with out. This moves the centerline of the tire out by 1/2". Actually increased the track a full inch.
I'm very happy with the fit and the performance with 5.38 gears and the ford performance tune still feels faster than with no tune,4.7s, and 35s.
Obviously with only a 2" lift above SAS, I will need to do some MORE fender trimming. And will be making new inner fender liners. Im ok with hacking 1"-2" on the fenders radius. Eventually, with long travel I'll need to remove as much as 4" in certain areas.
The one area that the fronts rub even at ride height, is the frame behind the LCAs, at near full lock. This could be remedied with wheel spacers, which I'm not a fan of because they increase scrub dramatically and leverage on the steering components. I'll probably try these temporarily until I can widen the front 3" on each side using Braptor A-arms.
The rear squeeze is very easy and needed almost no trimming initially to be driven moderately. To achieve full compression with my current wheel travel nearly 2" needs to be trimmed.
Last edited: