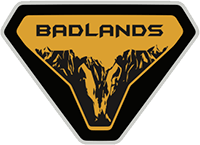 Well-Known Member
Joined

Jun 3, 2019
Messages
Reaction score

2,014
Location
Website
Vehicle(s)

2021 Bronco Badlands non-sas 4 door manual
Bronco

Badlands
We took our bone stock manual badlands bronco through the Poison Spider-Golden Spike-Gold Bar Rim trails!
Some Background: My wife and I took a trip out to Moab to visit her sister while she is working in Utah. This was a very loosely planned trip with only some details planned ahead of time. For example we knew we wanted to go mountain biking, and that we wanted to try at least one of the off-road trails there, as well as explore the backcountry and do some hiking. We left Michigan after work on Wednesday (11/10/21) and were in Moab Friday afternoon. We kicked things off with an awesome bike ride on the Porcupine Rim Trail. This is one of the few double black diamonds I have been on where it really felt earned. Most of the trail was reasonable but some sections felt like pro lines.
Saturday we decided to try a dedicated off-road trail. I have some off-road experience in Michigan, between a few trips to Bundy hill and Holly Oaks and a lot of time spent in the UP, but nothing quite like Moab and certainly not much of anything with our Bronco yet. Before our trip I had started looking up the trail rating system which lays out the requirements and recommendations for each trail quite nicely and decided that I would be happy with level 5 or 6 trails. I figured a 7 might be possible (not recommended without 35's or lockers) but wanted to play it safe. Well, I changed my mind and that morning I decided I wanted to try Poison Spider (7) which feeds out to Golden Spike (7) and eventually Gold Bar Rim (6). There are even some optional level 8 trails within that trail system but I decided to count my blessings.
The Bronco Killed it! My primary concern was body damage or a potential rollover, neither of which happened. I had a tow strap and camping gear for 4 so I wasn't too concerned about getting "stuck" as there would be plenty of built rigs on the trail to help out if needed. I am happy to report that no assistance was necessary. Since we started a bit late in the morning, 10am, we ended up camping out on the trail. This may be frowned upon but its BLM land and the trails took much longer than I anticipated, and sunset was only 5:30.
I often went out of my way to take the more challenging and fun line so long as it was still roughly a "level 7". There are many optional lines on this trail that are level 8 or higher for more advanced rigs to fool around on. I was very fortunate to have my sister in law, her boyfriend and my wife to spot me on the trail. It would have been much more challenging and risky to go it alone.
There was lots of undercarriage contact on this trail but nothing truly cringeworthy in my opinion. Skid plates are meant to be used after all! As you can see we popped our license plate holder loose, but nothing i'm too concerned about. I did some obstacles without lockers, but the hardest ones required at least one, if not both. I generally used both if I needed them at all. 35's would have helped but the 33's were fine and I loved having every bit of flex and wheel travel available from the standard Badlands. I also aired down to 20 PSI. This made a huge difference, I would almost say that it is completely necessary, at least for smaller tires.
In this post are a number of photos from our ride. I also crudely spliced together a bunch of MP4 files from our phones and uploaded them to YouTube. I am not a video editor so apologies for the low quality, though to be fair we were there first and foremost to have a good time, not to film a documentary or an advertisement.
As you can see in the video, we didn't film every single obstacle, and a couple times the video cuts before the obstacle was completed. In the case where I was high centered. I just locked the differentials and Jed hopped on the bumper and that's all she needed to pull herself free.
This was the first real obstacle on the trail (actually to the right of the frame out of view), right after the first couple switchbacks. I was very nervous and almost turned back. However, getting through this gave me the confidence to push forward to much harder obstacles that made this one seem rather tame.
The middle and upper sections of the "waterfall" obstacles
The "wedgy", this is actually pretty easy, but high risk of body damage if you get careless.
I just thought this was a really cool looking part of the trail.
Love this shot at almost full droop.
As seen in the video, this is what I thought was the trickiest drop/ledge. Luckily I only had to go down.
Fresh coffee in the morning!
1mph obviously includes the overnight. But we certainly weren't moving crazy fast.
Heres the video!
Last edited: