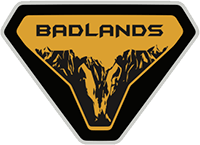 Well-Known Member
First Name

Dave
Joined

Aug 25, 2020
Messages
Reaction score

6,422
Location
Vehicle(s)

19 Z71, 06 VTX1300, 94 Cobra, 21 BL Bronco 4dr.
Bronco

Badlands
Vehicle Showcase
Rented a 2020 Wrangler here in NC, drove it straight through all the way to Sewell in Odessa, TX.
Picked up our new BL Tuesday AM, headed south to Big Bend Ranch State Park, after a brief refuel in Alpine.
We camped out under the stars there in BBRSP the first night, got up, packed back up, headed out to Big Bend National Park to ride some trails.
We left the pavement and headed on our first off-road adventure down Glen Springs Rd, stopped briefly many times to switch drivers, take pics, do some light exploring on foot.
Rode it all the way to the end, checked out a few side trails at the far south end of River Rd, checked out the Village and the border crossing.
Headed back out, rode some more, checked out many more stops.
Headed back out to Terlingua, found a cool border-lands vibe bar and grille, slept like a rock.
The next day we took mainly 2 lane backroads back diagonal across TX, avoided interstates. It was really cool to watch the landscape and vegetation change as we did so.
Booked it on back to NC, logging about 2300 miles in 4 days.
Average MPG with the cruise set on 80 was about 14.4.
For about the first 30 minutes we kept it between 7-17mph. By the end I was throwing dust up behind me at over 55 on the sandy/Rocky River Rd. It handled it better, rode better, was amazing off-road at those speeds, drifting around curves, soaking up the dips and bumps. Had I aired down it would have been even smoother.
the good:
-plenty of power
-amazing ride and handling
-zone lighting comes in REALLY handy.
-no hint of mechanical or electrical issues.
-no squeaks, rattles, issues at all.
the bad:
-below 65 was better mileage but taking long trips at highway speed is going to have you stopping for gas frequently and drain that wallet.
-The prop-up rear soft top is handy, but is still a bit of a PITA to use. Quicker than a zip-out window like a Jeep. having to use both hands to open is a pain unless you open one side, easily sit it back down so it doesn't latch, unlatch the other side.
-the passenger areas can get crampt quickly with trip stuff (blankets, pillows, drinks, snacks).
-the CarPlay was finicky at times.
-wind noise (to be expected)
-a bit more room under ANY of the seats would be super handy and nice to have to store some stuff on trips like FA kits, Recovery gear, etc.
-rear compartment plastics scuff very easily. Be prepared for this surprise.
observations:
-The soft top just kind of sits there on top of the roll cage, latched in front, you can put your whole hand up into the Bronco, allows for 98% of the wind noise vs just because it's a soft top wind noise (I've owned ST Jeeps).
-The dash layout is good, got used to the gauge setup, and no, no one uses the regular speedo.
-Shifter is amazing in ergonomic design.
-Door panel tops are also at the perfect height.
-HVAC will blow you out of the seat at times. Very hot heat, very cold AC, hurricane-force power.
-auto dim lights were a cool novelty at first, quickly disabled it.
-as expected, the windshield is a bug magnet. Expect to clean it at every fill up.
-seats were nice, supportive, much better than the Jeep rental. (As was everything else).
-lots of little quirks and "figuring out" of features, like an adventure all on its own.
-at the car wash, (back to observation #1), spraying it off and even up at the seal showed no leaks.
-power seemed lacking on takeoff (I didn't tach it up because of break in time), but rolling power is nice.
-upper dash is a great design, plenty of areas to store some items, and they don't slide around and stay in the compartments.
recommendations:
-get the dash imprint decals from StickerFab. They really add a nice touch. Also invest in the door entry protection.
-Dual zone controls are priceless if you and your passenger have different ideas on what a comfortable traveling temp is.
-invest in some PPF (I have the armor version ordered from XPel). This is for at least the doors from the body line down.
https://www.xpel.com/ARMOR-Protection-Film
-Get out there. Get off pavement. See things you never could have/would have. Make memories. Take that trip. Pack that tent. Just do it. Your soul will thank you.
long story, but overall and abundantly happy. As many say, they are worth the wait, worth the struggle, worth the stress. You do tend to forget it all once you hit that Start button the first time.
SAS pkg handles things like a dream.
Y'all are gonna love them.