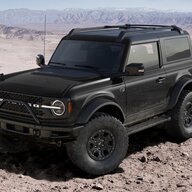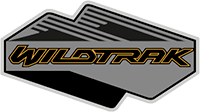 Active Member
I was able to see the Bronco in-person for the 1st time yesterday in West Monroe, LA. They had 2 Badlands Models on display. One had MGV and the other had the leather trimmed interior and neither were Sasquatched.

I ordered a Wildtrak in January and currently drive a 2019 F150 King Ranch. I usually lift my trucks a few inches and I had a couple of concerns about the Bronco:
1. Was the Sas package necessary for the height of truck I have become accustomed to?
2. Is the width of the truck on the inside going to feel cramped after driving full sized trucks for years?
3 Will I be disappointed in the 2.7 V6, coming from a 5.0 V8?

My initial 1st impressions:
As others have stated, the Bronco is bigger in person than it seems on screen. My 1st question to the Ford Reps: "Both of these are non-Sasquatched?" And I heard 3 other people ask the same question. I was shocked that neither of them were Sas'd.

I'll say this: from a guy that usually lifts his trucks, the standard Bronco with 33" tires has plenty of size. I prefer lifted trucks and still glad I ordered a Sas, but I would have also been content with a standard Bronco on 33"s. That was the biggest surprise to me.

The inside width of the Bronco was smaller than my King Ranch, but it was in no way uncomfortable. The steering wheel was slightly smaller than my F150 and the console was seriously smaller, like about half the size of my current console or more. There isn't room for 2 elbows on the console.

That being said, I can absolutely deal with it. It's a smaller width vehicle but I wouldn't say it was uncomfortable, which was my main concern.

The 12" touchscreen was huge!! But it does take a little while to load on startup.

They had the MGV and the leather trimmed version on display and both were cool. I would have been happy with either. The MGV is interesting. It's not exactly vinyl or leather but its very comfortable. It was fairly soft.

While I didn't get to drive either of them, everyone I asked said the same thing: there is plenty of torque in the 2.7. I don't think I'm ever going to be looking for power that it doesn't have. I'm rarely pushing my current engine over 3,500 rpms. I'd say 90% of the time I'm under 3,000 rpms. But based on conversations with people who are driving the Broncos around the country, I think it has plenty of get-up and go from 0-60 and plenty of power to pass vehicles on the road. One driver showed me that he had been driving in Eco mode and was getting 22-23 mpg. If I could get 17-18mpg, I be thrilled.

Overall: Ford hit it out of the park without a doubt! There were people of all ages there and everyone loved it. For me personally, there are some minor inconveniences coming from a full size truck, but the positives far outweigh the negatives. I can't wait to drive it!
Last edited: