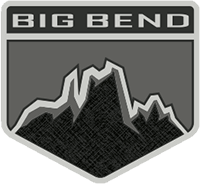 Well-Known Member
First Name

Ashley
Joined

Jul 12, 2020
Messages
Reaction score

24,559
Location
Vehicle(s)

Big Bend Sasquatch 2D
Bronco

Big Bend
So I picked up my Bronco (Mae Pearl) on October 11. She had 70 miles on her from Dirt Mountain. Where I then after got on the interstate rolled down to Texas. I visited some friends along the way plus BodyGuard Bumper facility in Paris TX to check out their CAD images on the slim bumpers before SEMA.
I got my bronco from Roberts Motors in Alton. They were great to work it. Very communicative. I got my tow basket free from the Ford program too. I wish I would of done rock rails instead. Doing that next along with seeing the price of the steering upgrade.
Shorty after coming back from Texas I had a Moab trip planned the same week of SEMA. My good friend Kelly drove her JL we're she exceeds over me was her 2.0 E-Torque engine has hybrid she can get some miles out of a tank of gas because of the hybrid parts she has on her Jeep. She had me by 100 miles give or take. My best fill up was in Denver I got 360 miles out of a tank. 18 MPGs was my average.
Otherwise my bronco had all the advantages out of the gate. I got a Big Bend Sasquatch, & she has a sport 4 door stock height on 33s no lockers.
We stayed at a place at the bottom of Hurrah Pass. Then we ran trails around that area. Took time getting in and out from Basecamp everyday. Not a place I'd want to drive in the dark. It was pitch black. So we were limited on time. We did however knock out Hurrah Pass, Chickens Corners, Jackson's Hole Loop, & some trails in the Needles District. Then I did Onion Creek to La Sal. I also stopped and saw the Moab Off Roadeo location. Didn't see anyone around so think they were in the trail already.
November 11 will officially 30 days of ownership. I've got about 4800 miles so far. I did my first oil change at 1500. The only issue I've had is my fob not detecting sometimes. I figure I'll change the battery. My Mic 2.0 is perfect. No leaks, no strange patterns. I've ran it through the car wash twice now. No issues their either. I've only had my doors off once. I've not took the panels off at all yet. Weather not been the best or I've been on the road.
Bye the way I did put my Stig sticker in my bronco. I have a picture for reference. It's on the passenger side, down by the shifter & the grab handle.