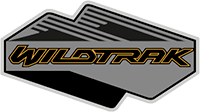 Well-Known Member
I'm confused, what exactly makes the Badlands more capable then the Wildtrak other then the sway bar disconnect? Plus the sasquach package is an add on for the badlands and standard on the wilttrak.
Nothing, this is just a hangover from the jeep way of thought. In Jeep land, the Rubicon comes with Sway bar disconnects, front and rear lockers, aggressive mud tires, larger gearing and larger axles. With the Bronco, they took all of that and made it the Sasquatch package.
So when buying a jeep, the model you pick makes a real difference in off-road capability, and if you want off road capability you have to buy the Rubicon model. With Broncos, you buy whatever model(Base to Wildtrak) you want, and get the Sasquatch package if you want capability.
Alternatively, if you don't want the 35" tires, you can get all of the capability stuff on a Badlands without the bigger tires. Badlands also gets the unique front disconnect, which should be easy to add after market if you really want it.
I think the front disconnect is only useful to certain buyers. I never use it on my Rubicon in Georgia, but I could certainly see some areas out west considering it must have.