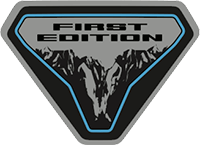 Well-Known Member
Ok, this post is meant to give a thorough understanding of how the build process works and what all these terms mean, for those of you asking. First thing you have to understand, this is not like ordering something off Amazon. There are tools and trackers, but they are often way off on their estimated times, or come in long after the vehicle has actually been built or shipped. Here is a great thread with links to all the various trackers etc.
https://www.bronco6g.com/forum/threads/here-are-the-bronco-build-tracking-links.22795/
First off the window sticker.
Reference example (labeled)
BLEND DATE
You should get your window sticker about a week before your "blend" date. Blend is the point where the chassis and body meet on the assembly line to go through final assembly. The work on the body and chassis has already begun a few shifts before this date. My blend above shows "2021/10/14" So my Bronco is
scheduled
to go down final assembly on 10/14.
PLACE IN LINE
This shows I am the 496th out of 881 scheduled
units
to begin the final assembly process on 10/14. FYI, This number is both Bronco and Ranger since they run down the same line.
EDIT 10/19
: This number has become bigger recently, due to MAP orders processing in larger batches. This number is not always a daily or weekly total, it had been a daily total for a few months due to production orders sent to MAP for processing in a daily batch. Recently they have been sent in larger 3/4 day batches, so this number is in the few thousands.
ROTATION #
Number next to blend date is the rotation number. This is the main number production workers pay attention to. It is the master sequencing number. 4015 will blend after 4014. 496/881 is a scheduled target, but they may be a bit behind or ahead for the day/week. Rotation number will roll back to 0001 after 9999.
So today is your blend date, now what. You wait! The final assembly process takes more than a shift to complete, lets say 1.5 shifts to get from blend through final QC. If your rotation number comes up on end of first shift or during second shift, you will not be complete until the next day.
Once your build is complete, the Ford system should send you a build email, but its not that simple. Some people get them quick, some are delayed days. If your bronco has to go to the Mod shop for roof rack, body graphics, or safari bar, that will delay your build notification. PPF has to go to an off-site body shop and that will delay as well. If your Bronco is selected for random extra Quality checks is another delay. If quality checks find an issue that needs to be addressed, that could be a lengthy delay. Then there is just the plain fact the Ford system isn't great and some people never get a built email.
MODULES
While we sit and wait wondering if our Bronco has been built yet, we can check if our "modules have popped". Ford has an online as built service site that shows your PCM and BCE modules. If your VIN starts showing something as the below screenshot, it means your computers are "alive" and your Bronco has been built.
Edit: 10/19
- Modules have been taking longer than before to populate. This use to happen within hours of being built, there is current evidence this system now has some lag and can take a couple days to populate. It is still useful to verify the Bronco has been produced, especially if you have a delayed Build email due to QA issue etc.
https://www.motorcraftservice.com/Home/SetCountry?returnUrl=/asbuilt
SHIPPING
Now our Bronco is built, next we wait for shipping. There are two ways units leave MAP, by rail or by convoy (18 wheeler car hauler). Your window sticker will show which way your Bronco leaves.
Generally, convoy is within a few states of Michigan, Rail is the rest of the country. Your Bronco can leave the shipping yard quick, or it can sit there a while. It seems lately convey is sitting a bit, there are trucker shortages really hurting the industry. Rail will ship to a regional rail yard, and sit there until there is a convoy full to send to your dealer or region.
Once your Bronco ships you will get another email from Ford notifying you with delivery estimates. These estimates can be way off sometimes, your dealer should be able to tell you how long shipping usually takes to them.
https://www.bronco6g.com/forum/threads/here-are-the-bronco-build-tracking-links.22795/
The above tracker link has links and instructions to tracking your shipment. Seems to be easier to track by convoy. To track Rail you will need your dealer to give you the rail car number your Bronco is sitting in, or have them track it for you. Dealers have the ability to track it and see the rail car number in the Vehicle Visibility system. The rail car number should also populate on your DORA after shipping out.
Last edited: