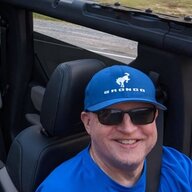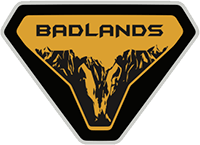 Well-Known Member
First Name

MIke
Joined

Jul 12, 2020
Messages
Reaction score

577
Location
Website
Vehicle(s)

Subaru Crosstrek, Subaru Ascent, BMW K1600B
Bronco

Badlands
My apologies for the late report. I have been dealing with a death in the family but wanted to share my thoughts on the Bronco. I don't think I have anything new to add, but I figured I might as well share my thoughts after getting to ride in a Badlands and see several other Broncos.
I have been to two Bronco events. First, my brother and I rode our motorcycles from the Raleigh-Durham area of NC to Super Cel East in Townsend, TN on 4/23. I'm the bald guy with the neon arms in some of the pictures and video. While there, we did a ride-along in a Sasquatched Badlands with leather and lux trim (2.3L motor), driven by Shelby Hall. We also explored various other new Broncos on display, climbing in and out of them. We didn't really pay much attention to the Bronco Sports and did not drive one. Then on 5/1, I attended a local dealer Bronco event in Apex, NC with my wife, daughter, and a friend. We were able to crawl all over a 4-door Rapid Red OBX with leather and lux (2.7L motor) and a 4-door Velocity Blue Big Bend with the base interior (2.3L motor).
My first unexpected realization was that I like all the colors in person. Really. I was hoping to easily rule some out, but I think they all look perfectly good. It's just a question of personal style and taste. You may disagree with me on that, but that was my reaction. My wife and daughter loved the Antimatter Blue on an F-150 at the dealer event. They hated the Cactus Gray on a Ranger the dealer had by the Broncos. I note CG looks far better to me on the Bronco than it does on the Ranger. Either way, I think AMB is going to be our color. I like them all, and my wife had a clear favorite.
My second realization was that, to my surprise, the OBX has a real sense of presence in person, too. I had not been a fan of the painted fender flares, door handles, and mirror caps. And I am not a fan of the 18" wheels that are more highway oriented than off-road oriented. But it actually looks quite good in person and is certainly a more "upscale" look than other trims that don't have the body-colored bits. My wife thought the painted flares and such looked so good that she got excited about the painted tops for MY22.
I had initially ordered an OBX and then later changed my mind to Badlands. I was a late reservation, though, so mine will be a MY22; and that's mostly fine with me. In person, the reasons I decided against the OBX don't hold up so well. It's a nice-looking vehicle and looks like it will manage perfectly well off-road, too. I still prefer the MGV and 33s of the Badlands, but that's about it. Well, the sway bar disconnect is another point in favor of the Badlands, although I don't think it would actually get much use from us. I'll likely still go Badlands, but my wife is now pushing a little back toward OBX. We'll see.
Quick impressions:
These things look awesome.
The soft top looks a lot better now than they did earlier in the process. I love how easy it is to put up or down. Note, to put it all the way down, you have to remove the plastic rear windows. As demonstrated in various videos, they use a combination of slide tracks, and Velcro.
Sasquatch is high, especially getting out. I'm 5'8" or so. I'd want some sort of step.
The dealer said they don't have steps yet that attach to the rock rails and they don't have rock sliders that can double as a step. Those are my two preferences.
The grab handles are not well positioned to aid in getting in or out. They are great once you're riding in the vehicle.
The front windshield is pretty vertical and the dash is rather shallow front-to-back. But it works well. I'm a little concerned about the windshield catching rocks and chipping, but that seems like a minor concern.
I still don't understand the old-school antenna on the front quarter panel. Maybe they could put a fin or stubby somewhere.
The doors are pretty easy to take off and put back on. We asked them to demo taking a door off and putting it back on at the dealership, and they were happy to oblige. We saw him remove a rear door himself and then put a front and rear door on with no help. Front door was 63 pounds and rear was 48 pounds, iirc.
Contrary to what some other folks have said, I found the running boards on the OBX helpful for getting in and out.
There is more trunk room in the 4-door than I anticipated.
With the 4-door, the rear seats do not fold flat. There is roughly a 3-inch hump at the base of the rear seats when folded down.
With the 2-door, the rear seats fold nearly flat.
I can't understand the thinking of not having cup holders in the rear with MGV; surely Ford will update this for MY22.
I also can't understand why you'd put carpet on the back of the second row of seats with MGV; I will lose a lot of faith in Ford if they don't correct this issue.
The leather power seats were generally pretty good.
I preferred the way they did the leather in the Badlands over the leather in the OBX. It seemed better cushioned in the Badlands.
The MGV seats were also comfortable. I was particularly concerned about getting them "just right" since they are not power. My main concern was whether they would have sufficient support or adjustability under your thighs, but they were much better than I had anticipated. I would be perfectly happy with them.
The cloth seats look a bit low-rent to me, but they seemed fine. That may just be a personal bias. I honestly can't recall the last time I purchased a car with cloth seats, but it was more than 20 years ago.
The 12" screen is almost too big for this type of vehicle, but it offers a lot of versatility, especially when you have a split-screen view off-roading. Camera quality is excellent.
The 8" screen was very good.
The lux package sound system was underwhelming during our ride-along. Shelby was convinced they had not put in the rear speakers. She said she had played with it but wasn't getting anything out of the back; so she stressed that this was a pre-production model. That may explain why some folks have not been impressed with the B&O system.
A friend who is 6'4" went with us to the dealer event. He had plenty of legroom and lots of headroom in the driver or passenger seat. When I positioned the driver seat for me, he was able to easily sit behind me and said he had sufficient legroom in the backseat. But, of course, there wasn't much legroom behind him when he was in the front seat.
My brother, who is about 5'7" sat behind me during the ride-along and reported he had lots of legroom.
Trail turn assist is flat-out amazing. At SCE, there was a particularly sharp uphill switchback. We watched the Bronco ahead of us navigate it and our jaws dropped. My much smaller Crosstrek could not have made that turn without a lot of maneuvering, but Shelby then made it easily in our 4-door Badlands.
The Badlands we rode in had a soft top. Road noise was not an issue at speeds up to 55mph.
It was slightly rainy that day, but the Bronco had no issues climbing or descending the muddy trail. Shelby bombed through that trail MUCH faster than I would have, but the ride was comfortable despite the uneven nature of the trail.
You cannot activate the camera views unless you are in one of the off-road GOAT modes. That was disappointing.
The front camera was super helpful when cresting a peak. It allowed you to see the trail ahead even when you couldn't see it over the hood.
Shelby said the 2.3L had plenty of power in the 4-door Badlands, even with Sasquatch; but she admitted you have to plan your acceleration in certain situations (esp uphill passing). I was impressed but I still plan on the 2.7L.
My brother taught Shelby a new word. He told her I have "Broncoitis," which caused her to laugh and say she hadn't heard anyone say that before. Likewise, the Ford rep at the dealer event said she had not heard anyone say "half-Squatch" when referring to the Badlands suspension. I had used that term when explaining the different trims to my friend who went with us, and she overheard me.
Overall, I am even more excited about the Bronco now than I was before. These things are just flat-out fun, very livable, and extremely capable. That's what I was hoping. There are still a few things I'd tweak (cough, weather-proof lining on the back of the seats and cup holders in the rear for MGV), but the Bronco is overall a pretty amazing ride. I'm looking forward to mine!
Attaching various pix and videos. I didn't really get a lot of good shots b/c we were too busy just soaking it all in.
VIDEOS:
Last edited: