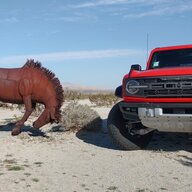 Well-Known Member
First Name

Randy
Joined

Jul 14, 2020
Threads
Messages
Reaction score

274
Location
Vehicle(s)

'67 Bronco Baja racer "The Bukin'eer"
Your Bronco Model

Raptor
Has anyone had issues with their transmission? I only have about 3800 miles on mine and now it's at the dealer service center.
It started about 2-1/2 weeks ago when we were leaving for a 6 week western state motorhome tour where we were attending 2 Bronco events, the
Northwest Bronco Roundup
which we made, and the
Bronco Super Celebration West
which we didn't.
When we were leaving and hooking it up to the tow bar, my wife started it up but it wouldn't go into drive, so I shut it of and re-started and of course it went in. I followed the Neutral Tow instructions by the book every time, which are pretty simple.
I didn't have any further issues for several days until I was at the first event in Oregon, where it wouldn't go into reverse a couple of times. other than that it was fine for a few days when I got into WA state. It started shifting hard, not going into reverse and then started going into random gears, like from 2nd to 8th then back. The service wrench light came on several times, and it even when into what I call 'limp mode without moving'. It was running, but had no throttle response.
I got it to the local Ford Dealer in Vancouver WA and luckily they agreed to take a look at it. (A huge thank you to
Vancouver Ford
!) They communicated with Ford after discovering the fluid was burned. They wanted to take care of it and order another transmission from Tenn., but because of the length of time that would take, I decided to take it to a dealer close to my home, so we cut our trip short by 4 weeks and lost over $500 in campground reservation cancellations!
I took it in to my local Ford Dealer this morning and was told I will get informed tomorrow of their prognosis. They did mention that this was the first issue of this kind they were aware of.
On another note, it flat-tows great!