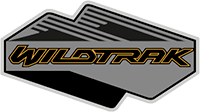 Well-Known Member
Amen. A dealer that shall remain unnamed here had a salesperson standing by the Broncos on display to field questions Saturday.
They had two side by side, one was WT in Rapid, one was a BL in Cyber.
I asked to see the BL one in the sun (see if they would move it a few feet forward to let the sun hit the paint) he asked "which one is the Badlands?"
I replied "The Cyber orange."

"Which one is orange?"

I just don't know how to respond to that other than how I did, which was less than polite...
Wow. That is embarrassing.