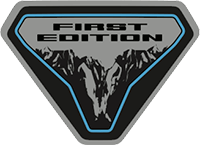 Well-Known Member
You can take both the First Edition and Badlands off the reservation list for me, pulled the plug last night (have had both reserved since launch night).
I need something with at least 5k tow rating. and as much as I like the Bronco I don't want to be limited by towing. I still find it unbelievable a 2.3 EB Ranger with tow package can tow 7500 lbs., but Ford didn't have the foresight to make a 2.7 V6 EB Bronco tow at least 5k lbs., instead both the 2.3 EB 4 cyl and 2.7 v6 EB tow the same 3500 lbs. Towing package on a Bronco adds nothing to rating ?

Be safe and have fun.