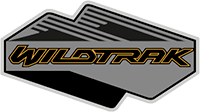 Well-Known Member
I am sure I'd be out of the market for that thing but it would have been nice for Ford to have had it at launch. I will be happy with my fairly tricked out BL but as soon as that thing is on the road, I know a little part of me...
Its forcing me to wait... sure I'd be happy with a badlands or windtrak but I know once I see the warthog in the flesh I will have buyers remorse.
It just looks so aggressive and unstoppable on those 37s.... but practical too as a daily driver for a family guy like me.
I have absolutely no need for this thing but is just keeps calling to me.