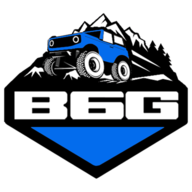 Administrator
Staff member
First Name

Doug
Joined

Jan 26, 2015
Messages
Reaction score

15,747
Vehicle(s)

Ford
Bronco

Undecided
We just caught another 2023 Bronco Warthog prototype, this time running on the F-150 Raptor's 17-inch Bead Lock-Capable wheels, showing more ties to the classic Raptor formula for the ultimate Ford Performance tuned Bronco.
Bead Lock-Capable Wheels Installed On Latest Prototype
While the prototype's spare tire is equipped with a standard Raptor-style wheel, the four running wheels all appear to be exact matches for the Bead Lock-Capable wheels that are optional on the F-150 Raptor. It's the first time we've seen this next-level style of off-road wheel installed on a prototype for the Bronco Raptor/Warthog.
Raptor-Spec Fox Live-Valve Shocks Visible In Latest Shots
This latest Raptor-based tie-in can be added to our
earlier shots of the Bronco Raptor/Warthog,
which revealed evidence of the F-150 Raptor's trick shocks visible underneath the prototype. Today's shots give even clearer evidence of the orange-hued Fox Live-Valve shocks soaking up the bumps at on the prototype's front-end.
The high speed, Raptor-style intent of the new Bronco Warthog was made clear in Ford's teaser shots of an airborne prototype, and the Raptor influenced suspension spotted on this prototype further nails down its mechanical makeup.
The rear suspension shows signs of camouflage inside the wheel well, but one of our shots shows another bright, metallic orange-colored component peeking through. It's impossible to see the exact suspension configuration, but it certainly suggests that the Fox Live Valve technology is in use, front and rear.
Last edited: