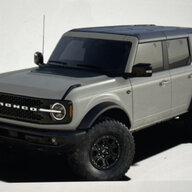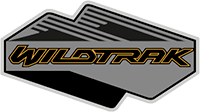 Active Member
First Name

Richie
Joined

Feb 10, 2021
Messages
Reaction score

213
Location
Vehicle(s)

2017 Raptor, 2001 XJ, 1989 LX Mustang, 17 Escape
Bronco

Wildtrak
Finally had the opportunity to drive a Wildtrak today and overall I would say it was a great experience. A few things that raised concern for me.
My daily driver is a 2017 Raptor so this Bronco will be for my fiancé. The Bronco seems like a great vehicle for our lifestyle and we will be moving to Colorado soon and it seems that the Bronco will get much more use on the tighter trails in CO. I took several photos of the size differences for comparison. For reference, the Raptor is on 37's and has about 2" of life from springs front and rear and the tires. Threw in a bonus picture of my Foxbody for size reference. Both Raptor and Bronco dwarf in size.
My intention with this was to offer some perspective on the two models in Ford's lineup that claim to be high-speed desert runners. They are two completely different vehicles and I will use them for different things. I need a truck bed quite often for my lifestyle and the ability to tow 8k solves 99% of my towing needs. The Bronco simply doesn't have the cargo capacity or towing capabilities I need. As far a value goes, I don't think they are really all that comparable, The Raptor is a different class of vehicle, and if you want a truck for minor truck duties that can also leave the ground at 85mph in the desert and take you home after with air-conditioned seats then get a Raptor.
If you want a vehicle that is capable of going almost anywhere in stock form that is also comfortable and you don't need the truck bed, etc. get a loaded Bronco. The best option, get both.
Pricing is hard to compare as well but this Bronco is going to be the first truly new vehicle ever for me. I usually can never justify the initial depreciation but I'm hoping these hold their value similar to Jeeps and 4runners etc. Specific numbers, I bought the Raptor for 53k with 70k miles. The Bronco will be about the same price brand new. Take that for what it's worth. If you are solely looking for the highest off-road performance for the lowest dollar amount and have no interest in all the luxury features available in these two vehicles. The basesquatch seems like a hell of a deal.
My initial impression driving the Bronco coming from a Raptor was how tight and nimble it felt. The power from the 2.7 should be plenty for most. Turbo lag was minimal. The Bilstein suspension felt slightly stiffer compared to the fox 3.0's on the Raptor. I did notice that in corners on pavement the Territory M/T's felt like they were getting chewed up pretty good. Not sure what the rubber compound is but they felt soft. Not that that Bronco is intended for this but I do enjoy spirited driving through the canyons and I fear that these tires will wear quicker than normal. We took the Bronco down a two-track that was mostly sand and dirt and it felt like an oversized RZR. The Bronco was very responsive at around 45mph in loose sand. Oversteer was corrected almost instantly in Baja mode. Not having panel shifters did make me appreciate them even more on the Raptor though. I noticed that the transmission in Baja mode would keep the RPMs higher than I prefer, somewhere around 5 to 6k so I would find myself manually shifting up a gear where the Raptor seems to shift a bit sooner. This may be because of the increased torque from the 3.5? just speculations there but take it for what it's worth. All in all this vehicle seems much more all-around useful for what I intend to do with it. I enjoy the higher speed offroading and will be doing moderate rock crawling that may require lockers but hopefully nothing that will destroy it. This independent front suspension is so much more comfortable for everyday use compared to say... a Wrangler. The five-link in the rear responds very well and I'm grateful Ford stayed away from leaf springs in the back.
We will be opting for the soft top as soon as the order banks for 22's open up due to the massive delays in MIC tops. We have a January Reservation so hopefully, that allows us to get one around spring of 22. The soft top was not as loud as I was expecting but I do have a couple of complaints about it. First, the rear C pillar on the demo vehicle had paint being ripped off from opening and closing the soft top. (I will post pictures) Second, when we had the top open in the first position that is only over the passenger area, There was a consistent rattling noise that would get annoying quickly. I may try to mitigate this with bungee and try to wrap the C pillars with some kind of protective adhesive to protect the paint. Long term I think we are going to wait until the aftermarket has a better solution to the hardtop and go that route.
Happy to answer any questions you may have regarding the two vehicles.
Richie
.
Last edited by a moderator: