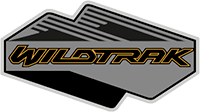 Member
Hey Guys,

New here to the Bronco6G Forum, I ordered my Bronco Jan 2022 and received it May 7th from the guys out in Prosser, WA. No markup and a bunch of great guys there. Traded in my 2022 Tesla Model 3 Performance that I wasn't a fan of, only bought it due to messing up the motor on my 2018 Mercedes C63S with over 750hp. Loved the car and def miss it. Well saw the pics of the new Bronco's and saw some on the streets loved them and wanted to get into off-roading again. So I picked up a Brand New 2022 Ford Bronco Badlands Sasquatch edition with the Hardtop.

IG Handle: @Bad_Bronc_4x4

My Current Build consists of:

ADV Fiberglass 5" Wide Fender Flares w/Liners

ADV Fiberglass Ram Air Hood

Baja Kit - Long Travel Pre-Runner Setup (Upper + Lower Control Arms, King Adjustable Compression Coilovers, Upper + Lower Trail Arms, and Bash Plate)

37" Cooper Discovery STT Pro Tires 37x12.5x17

RRW RR6-H Hybrid Beadlock Wheels (Soon I hope to have the beadlocks)

Rough Country Tire Brace

Sticker Fab Stickers interior details and Smoked Tail Lights, Mirror USB for Radar Detector.

Ford Cargo Enclosure Deluxe w/Raised Lid

Future Mods:

Rockslide Step Slider

KC Gravity LED Bar

KC Flex Era Ditch Lights A-Pilar

KC Rock Lights

SVC Ford Bronco Baja Bumper w/Hidden Winch

Whipple Stage 1 upgrade kit

J-Top USA - Custom Bimini Sun Shade

I'm curious on the full AFE BladeRunner Hot and Cold Charge Pipe Kits with the Momentum Cold Air Intake

Always welcome Sponsors on the vehicle!!!
Love your mods! How are you liking the Baja Kits package? Did you get the one that has the 3" longer RCV axles?
Thanks!
Any mods to the tie rods? Worried about all that flex putting pressure on them?