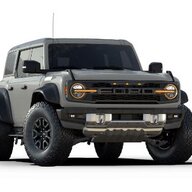 Well-Known Member
I hadn't seen a full review/post on this so I thought I'd throw one up. I recently installed an Icom Race Radio in my Bronco Raptor.
Couple things to note.
Radio, Cable, and Antenna are from PCI Race Radio. Radio is old though.
Radio Mounting Bracket is from Rugged Radios.
Antenna Bracket is from JCR Off Road.
The PCI Radio cable comes at 17'. It BARELY reached the rear mount. I originally planned on running it up under the glove box and into the trim along the door but it wasn't long enough. I ended up running it in the center console trim then under the passenger seat and into the door trim. Also when going out the rear door I had to go out the vent because the length didn't allow to come out the premade hole.
The Rugged Radio Bracket works perfect.
The JCR Antenna Mount had issues but I think they are specific to the Raptor. Since the Raptor has the upgraded rear door when you mount the bracket flush it has a "slight" bend to it. If you only were going to use this bracket for a flag I'm sure it would be fine however it left no room for an Antenna to actually mount. After a few trips to the hardware store I ended up getting some spacers and throwing them on there, which worked like a charm. The total spacer is probably about 3/4". It touches the tire but has not bend from the contact.
For those that don't know if you need power there is a rubber pop out behind the Brake Pedal. I popped that out and put a notch in it to run power to my Radio.
Overall I'm very happy with the parts and set up. Finding out about the spacers after the wheel was off was annoying but once I found a work around I had no issues. I'd recommend all these parts again.
Radio Bracket.
Side view on Antenna Mount and Spacers.
Rear view of Mount.