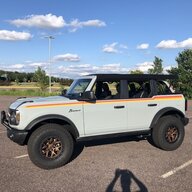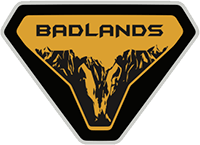 Active Member
This is gong to be a long one, I apologize in advance. I ordered my Badlands SAS with the base stereo since I was pretty sure that even with the B&O, I would have ended up replacing everything anyway. I have enjoyed reading all of the approaches people have taken to get better sound from their Broncos, both base and B&O. I am not a professional, so I am sure there are things I could have done differently, but now the sound system sounds great at any speed.
Background
I have always had big stereos in my cars and most recently I put a complete system with DSP into my Tundra. After hearing that and getting a feel for what DSP tuning can do, I was sold. This is my first stereo upgrade in an open-top car so I was not exactly sure how to approach it. Our wake boat has a stereo that sounds great at speed, with the engine roaring, wind, etc. so I figured I could try to duplicate the things that make that sound good. What I ended up with was trying to find components that work together and an amp that has lots of clean power. I also wanted to have the simplest approach possible, so a 5 channel system with an amp that had a built-in DSP seemed like the best solution for packaging and economics. I have seen a lot of things being done on this forum that I wanted to avoid (forscan reprogramming, boom mats, multiple co-axial speakers, etc.), so here is what I went with:
Equipment List
AudioControl D-5.1300 Amplifier and DSP
Morel Maximo 6 - 6.5" 2-way Speakers for the front
Kicker KSC40 4" Co-Axial for the rears
Kicker 12" sub w/passive radiator
KnuKonceptz Compleet 4GA Wiring Kit and 16GA speaker Wire
Install Process
The install was fairly straightforward and took a few days to get the entire thing done. One error in the install set me back a bit, but more to come on that later. First, I pulled all of the interior panels out that I needed for access to the various areas. Cargo area floor, rear trim, seat back floor trim and wall. Kick plate panels on all four doors and the access panel under the steering wheel and the glove box. There are plenty of threads that have this info, nothing new to report.
Next I ran the power wire from the cargo area across to the driver side, and then up the wire channels to the grommet under the steering wheel. Again, no issues, easier than working on previous cars. In previous installs I have done, everything was packed in so tightly that there is no room to work. Maybe the body-on-frame just leaves more room for wires and stuff. My Tundra was also really easy to work with. Anyway, here is how the power wire went:
And then a simple fuse holder with an L-bracket from the hardware store:
Next was getting the signal from the head unit back to the amp. I have seen T-harnesses and other plug and play solutions, but I couldn't stomach the idea of paying someone that much money to do something I can do myself. Yes, my time is worth more than the cost of a harness, but for $25 of speed wire and an extra 10 minutes, I decided to do it myself. Here is the speed wire I used:
8 wires for 4 channels of signal plus a remote wire. I tapped in to the factory signal at the back of the head unit and ran the speed wire back down the passenger side wire channel to get the input signal and remote turn-on to the amp. I also used a new tool for this - a wire puller:
No more coat hanger and tape for pulling wires! 12" connectable sections with a wire loop at the end to grab wires. This thing made passing all of the wires through the various places a breeze! So while I was at it, I ran my own speaker wire from the cargo area to the front kick panels and existing roll bar pods. It did take some creative routing to get the rear wiring in place, but nothing too difficult.
Installing speakers was straightforward, Kickers in the rear fit with no problem. I just had to remove the extra mounting tabs and they fit perfectly. 6.5" woofers in the kick panels using the adapters that came with them through Crutchfield. I purchased some tweeter mounting plates from Crutchfield even though they said they wouldn't fit. I thought, "No worries, I can make them fit." I was wrong. So I ended up making some mounting plates from 1/4" plexiglass:
I wasn't too worried about the esthetics, nobody is going to see these. It took a couple of tries to get them to fit perfectly. Maybe I should re-evaluate my process of measure once, cut, cut, cut. Passive crossovers in the kick panels tucked up and away. Before mounting to their final location:
Once I had all the speakers installed and wire going where I needed, I installed the amp. This was my one error that really cost me time. I made an amp rack and mounted the amp like this:
I had seen a few like this and I was pretty proud of myself. Until I tried to test fit the panel back in place. I had a couple of clearance issues and blocked a couple of the holes that the panel clips into. Ugh.
So on to amp mount number 2:
Once I got that sorted I hooked everything up and by some miracle it worked! Next I used the DSP programming to start tuning the system:
I entered the active crossover points and time alignments and then started tuning. This is the audio output on top and the electrical output below. I am using the channel summing feature to get a full range signal to all 5 channels of my system and then controlling crossovers as I want them.
One downside to this is that I lose the ability to fade the front and rear. Fortunately the DSP solved this for my purposes. I have one program set for normal listening and a second program for the front only. That way if we are road tripping and kids want to watch movies or listen to their own music with headphones, I can just choose program 2 and only send sound to the front. I am going to play with the tuning more and see if I want to run a separate program for top off.
Here is the sub control and sub:
I used a small bracket to attach the sub box to the tie-down point. That is as far as I am going to go with securing the sub.
Final Thoughts
I still have some tuning to do to really optimize the system, but so far it sounds great. Completely clear at 70mph with top off and windows down. The last thing I need to do is make a cover plate for the "access" hole I left in the cargo area panel.
I have seen a lot of different approaches to sound deadening, polyfill, boom mats, etc. After looking at the different areas of the Bronco I only used a few sheets of sound deadening. 1 small piece on the inside of the rear pods just because it was easy and I already had them open. I also put some on the floor of the cargo area. Also because it was easy. When I installed the system in my Tundra I put Kilmat on the rear wall, inside every door and anywhere else I could access. With the Bronco, I have not had any issues with rattles or other unwanted noise.
I was a little concerned about only having the 6.5" woofer and tweeter for the front channels since the factory system had that weird 6.5" and 4" combo thing going. Nothing to worry about, the simple 2-way components up front sound great and have a full, rich sound. I guess simplicity and enough power are good enough.
Overall, this was not hard to do. I enjoy working on my cars and got to spend a weekend in the garage. I already had all of the extra bits (panel tools, heat shrink tubing, wire ferrules, connectors, etc.) from previous installations, so that did help. I still had to make a few runs to the hardware store for brackets, bolts and nuts for mounting the amp and fuse.
Now the system sounds good, has plenty of bass and I can keep tuning it though the DSP to really get it exactly where I want.
Last edited: