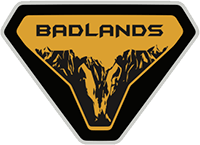 Member
Confirmed by Ford / BN today:
All 2021 Ford Bronco models will be flat towing capable
, regardless of which available transfer case is equipped. Both the standard 4×4 and Advanced 4×4 transfer cases can be towed with all four wheels on the ground. The capability is noted in the Bronco build and price tool under the details for both the 4×4 systems and Bronco Nation has confirmed with Ford that this is correct.
Looking at the current Ranger owner's manual can give us some clues for what will be required for Broncos to be towed in this configuration. A combination of selecting a setting on the Bronco's informational display, selecting 2H on the GOAT dial, and shifting the transmission into neutral will probably be required to flat tow the Bronco without damaging the transfer case. Also, typical tips and tricks with flat towing will probably apply. Make sure that you set your climate control system to a recirculating air mode to keep the exhaust fumes out.
https://community.thebronconation.com/forums/threads/an-update-on-flat-towing-a-bronco.2853/