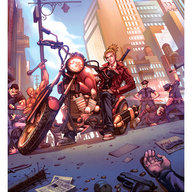 First Name

Mike
Joined

Jan 11, 2020
Messages
Reaction score

969
Location
Vehicle(s)

'19 Ram Rebel, '07 A4 Quattro
Honestly, I just get so damn sick of hearing the weak bitch about how "awful" a manual is in traffic. Like, I literally couldn't care less. I'd rather be slightly inconvenienced in traffic by a manual than be miserable in an automatic literally anywhere

But regardless, his whole post there could best be described like this;
As I said in the post above yours, I've driven in all 5 boroughs with my modded Audi, only issue I have is I need to readjust the resonators as 2500-3k is the drone zone, not the whole stop and go traffic.
Drive from NJ to NH and back twice, driven it though what you imagine NYC rush hour traffic to be (especially manhattan, where the only thing worse than the cabbies and buses are the pedestrians and cyclists) and again, while I need a truck for work, I don't tow anything, let alone bobcats like I was supposed to:
, so why do I need the big truck when I can get a little Trucklette with a stick? xD
Again, you're from Texas, you got Traffic in your big cities, I'm from Dirty Jerzy with our own shit, and despite the "Convenience" of an Auto, I'd rather take the Grand or two and reinvest it into something more awesome, like mods.
In Europe, where you have to stretch a dollar and they shift so abruptly and short, it's like they're amateurs (I was in italy 2 X-mas' ago visiting my dads family, the cousins would short shift
asap
and were
abrupt
about it), Auto truly is a luxury, but here in the states, having a stick is worth any minor hassles (We don't live in traffic, so as soon as it's done, back to having fun)