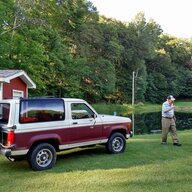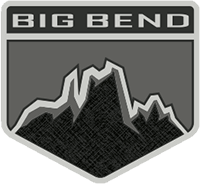 Well-Known Member
First Name

Adam
Joined

Mar 16, 2021
Messages
Reaction score

530
Location
Vehicle(s)

1988 Ford Bronco ii
Bronco

Big Bend
I reached out to my dealer today regarding the Ford customer satisfaction credit. I have a 2D 2.3 MT Shadow Black BB on order. I have a VIN and build date has been pushed July > August > September > Limbo. In the mean time I've had to pump around $800 into my resilient little 88 Bronco ii to keep her running, so I feel like I have a credit coming my way... but I digress. He informed me their demo had finally arrived!
The demo was a 4 door, race red BB. 2.3 auto trans. I've attached pics for size reference. My impressions:
I feel 100% validated and stoked for my order. Everything about this thing looked and felt great. I DO NOT understand the complaints about interior space. I'm 6' 186, and was swimming around in the driver seat. My friend is 6' 250 and said he had plenty of space in the passenger seat. Back seat was more than enough for sub 4 hour trips, prlly not a great spot for adults if you're going across country. The 2.3 was peppy enough, definitely not a sports car, but that's not what broncos are supposed to be. I put it in sport mode and noticed an immediate difference in response to the pedal. Audio quality was very sufficient. Ride noise was nothing bothersome. Felt and handled great. The MOST surprising thing was the turn radius. My bronco ii turns on a dime, and I was expecting to lose that with the new bronco, especially the 4-door. This thing impressed. From what I could tell, there was no upgraded packages, this was just standard. Odd thing: it had the trail turn assist hero button. I did not know that feature was available on BB. The only other hero button was traction control. This did have the sandstone interior (pictured). Which I ordered, so I was so happy to see it in person. It looked less tan in person than in pictures? And went very well with the race red. Also, I had 0 issue with visibility or windshield size, I feel like I've seen comments about that. I don't see any problem. Everything felt GREAT. After months of waiting and looking at other cars and trying to decide if it's worth it, this was a validating experience. I CAN wait.
I told my dealer if sh*t hits the fan, I would like to be first on the list to buy the demo when it hits its miles, and they could sell my order when it comes. He said that was fine, but the ETA for my order was 11/4. This is very surprising, as I've received 0 additional comms from Ford since the "we'll get back to you in October" email. Maybe some of us purgatory orders will be getting emails sooner than we thought?
Enjoy the pics! I'll answer questions as best as I can.