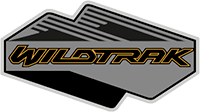 Well-Known Member
While watching some of the games yesterday I saw the F-150 commercial and in the beginning it caught my eye because I thought is was going to be for the Bronco. ....... riding a horse talking about Americans wanting a faster horse ........ thought for sure is was going to be about the Bronc.

cool commercial though.
That screemed for a quick Bronco Cameo towards the end. They need to let Marvel teach them how to cross over vehicles!
as late as Ford has been with everything else, I'm surprised their Monday Night Football commercial didn't run on Wednesday night
In John Madden Voice " I don't care who you are, that's funny right there."